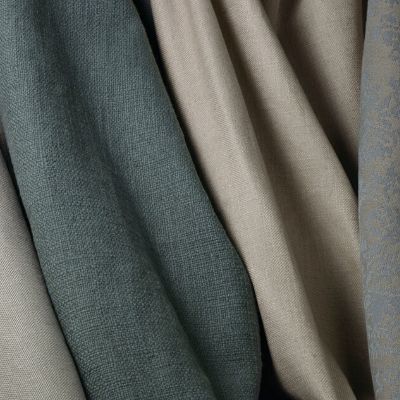 Now that your new couch has arrived and is in its place of honor in the living room, there are a few steps you should take to keep it looking fabulous (and no, you don't have to encase it in plastic).
One of the best—and easiest—things you can do for your upholstered or slipcovered furniture is to rotate and fluff your seat and back cushions (you might need to do this more often depending on the kind of cushion fill you have). Vacuuming with a soft brush attachment will remove dust and debris, but if you need to do more advanced cleaning, keep reading. (And if you're still hunting for the perfect piece of upholstered furniture, check out our selection here.)
Cleaning Upholstery
Each fabric is assigned a cleaning code for dealing with spots. Some can be cleaned with water-based products, while others can be cleaned only with solvents. We feel it's way too risky to make cleaning assumptions based upon the fabric content. You could end up ruining your upholstery. Instead, follow the manufacturer's recommendations. For example, cotton velvets are typically cleaned with water-free solvents, while many cotton twills can be cleaned with soap and water. When cleaning a spot or stain, always pre-test a small, inconspicuous area, say under a cushion, before proceeding. Clean from the outside to the middle of the soiled area in order to minimize the possibility of water marks. If your entire piece is looking dingy and dirty, it's time to call in a professional upholstery cleaning service (find one at www.iicrc.org).
We cannot overemphasize the importance of reading the manufacturer's instructions before embarking on any cleaning procedure, even vacuuming. Some fabrics, such as any of our performance fabrics come with unique care instructions.
Here are a few tips to keep in mind:
If you are spot cleaning your fabric with a soap and water solution (codes W or SW only) be sure to fully rinse out all soap as any residue can act as a dirt "magnet".
If spot cleaning a cushion, put a towel between the cover and cushion insert to absorb excess moisture.
Blot stains and cleaning solutions – do not rub.
Regular vacuuming will prevent dust and dirt build up that cause fabric wear. Use a soft brush upholstery attachment (if allowed for your fabric) and never use a rotary brush or anything with stiff bristles.
A yearly professional upholstery cleaning can help keep your fabric in good shape – be sure to keep your cleaning code information to share with any cleaning company you may use.
Cleaning Slipcovers
Slipcovers can be the ideal solution for furniture that gets a lot of use and sees a lot of spills. But before you throw them in the washer, check the cleaning instructions. If the fabric is dry clean only, it is recommended that you use a professional dry cleaning service. If your slipcover is made from multiple fabrics, machine washing is not recommended, even if the instructions for the individual fabrics says it's okay.
In addition to following the tips above for upholstery cleaning, here are some specific to washing slipcovers:
In between washings, regular vacuuming will prevent dust and dirt build up that cause fabric wear. Use a soft brush upholstery attachment and never use a rotary brush or anything with stiff bristles.
Be careful not to overload your washing machine – wash the base cover of the sofa separately from the cushion covers.
Do not wash some parts of the slipcover and not others – this will lead to color variation.
Zip cushion covers before washing.
Use a mild detergent and cold water.
If your fabric can go in the dryer, dry on low heat until damp.
Put the covers on your furniture still damp – it will stretch a little easier. Don't tuck the slipcover in until totally dry – usually overnight is good enough.
Here is a video on how to get your slipcovers back on your furniture:
Slipcover Storage
If you are lucky enough to have different slipcovers for each season, store your extras in a cool, dry area, away from direct sunlight. Before putting them away, wrap them in a lightweight white sheet or muslin cover to keep them dust free and allow air to circulate.
Pilling
Pilling is a normal characteristic of many upholstery fabrics, and should not be considered a defect or fault. Pilling is caused by wear and friction that result in excess fiber coming to the surface of the material. The fibers form tiny balls, cling to the fabric, and may need to be manually removed. Simply use an upholstery pill shaver or pill comb to remove the excess fiber. This may need to be done two or three times until the excess fiber diminishes. Most manufacturer warranties, including Lee Industries', do not cover pilling.
Like what you read? Visit thestatedhome.com to shop our collection of made-in-America furnishings.