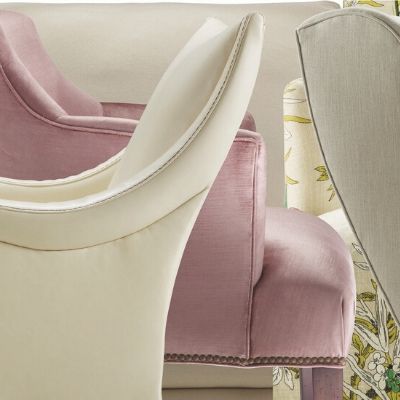 Choosing the fabric for your new upholstered couch may seem complicated, but it doesn't have to be. Sure, there are lots of colors and textures to choose from, but that's the fun part! If you are shopping at our site, thestatedhome.com, we'll even send you samples, so you can spread them out and pick the one you love the most. But looks are just one factor. There's also durability, types of fabric, and what care is required to consider. So let's clear it all up for you.
Durability
Fabric durability is determined by factors like the nature of the fabric, the weave, and what kinds of finish are applied. Fabrics are assigned a rating based upon how they perform on the "double rub" test, a back and forth motion similar to the wear from someone sitting down and getting up again. Counting the number of double rubs before there is visible wear in the fabric provides the rating.
Heavy Duty – More than 15,000 double rubs
Medium Duty – 9,000 to 15,000 double rubs
Light Duty – 3,000 to 9,000 double rubs
Delicate Duty – Less than 3,000 double rubs
As you can see, it takes a lot of sitting to wear out a Medium or Heavy Duty fabric. We want you to have your furniture for a long time, so we offer mostly Heavy Duty fabrics, along with a few Medium Duty slipcover options.
Fabric composition
Another consideration when choosing your fabric is its composition: Is it a natural fiber, a synthetic fiber, or a combination?
Natural Fibers
Natural fibers come from plants or animals and are soft and versatile. The Stated Home offers upholstery fabrics made with the following natural fibers:
Cotton: This soft, breathable fabric is durable, but it may wrinkle and can get dirty easily unless it's treated with a fabric protector. If exposed to direct sunlight, it can fade or yellow (prolonged exposure may even weaken the fabric). Blending cotton with synthetic fibers can improve durability and stain-resistance. Cotton is a good choice for washable slipcovers, though the addition of other fibers may require that the fabric be dry cleaned. Read more about the pros and cons of cotton upholstery here.
Linen (Flax): Made from the flax plant, this crisp, cool fabric resists pilling and soiling, but it does wrinkle easily. Though linen is less likely to fade than cotton, intense sunlight can weaken the fabric. 100-percent linen slipcovers should be professionally dry cleaned to avoid shrinking, though certain blends are washable. Read more about the pros and cons of linen upholstery here. We don't grow any linen here in America, find out why here.
Rayon and Viscose: Manufactured from wood pulp (cellulose), rayon has both natural and synthetic components, which is why it's classified as a semi-natural fiber. Viscose is one type of rayon and is rarely used alone in upholstery. You'll find it blended with other fibers to add sheen and durability to the fabric. Like natural fibers, rayon and viscose can be damaged by prolonged exposure to direct sunlight, and they don't have the same level of soil- and wrinkle-resistance as many of the synthetic fibers.
Leather: We sell lots of pieces in leather, which is a natural product, and you can learn more about that option here.
Synthetic Fibers
Synthetic fibers are generally more resistant to fading and staining. They may be used alone, blended with natural fibers, or blended with other synthetics. The Stated Home offers fabrics containing the following synthetic fibers:
Acrylic (brand names like Orlon and Dralon): Lightweight, soft, and warm, acrylic fibers resist wear, wrinkling, soiling, and fading. Many velvets include acrylic fibers and outdoor fabrics such as Sunbrella are typically acrylic. If you are looking for fabric that will be by a window in your home and constantly in direct sunlight, outdoor fabric may be your best bet. Some acrylic fabrics are washable, but others must be dry cleaned.
Nylon: One of the strongest fibers, nylon is usually combined with other fibers to create durable, stain-, and wrinkle-resistant fabric. Nylon is very resilient and can help prevent the crushing of napped fabrics such as velvet. On the downside, it is sensitive to sunlight. Cleaning of fabrics containing nylon usually requires the use of dry cleaning solvents.
Polyester: Strong and durable, polyester fibers are blended with others to reduce fading, provide wrinkle resistance and add resilience to napped fabrics. Unlike many other fibers, it stands up well to sunlight.
Many upholstery fabrics blend natural and synthetic fibers to offer the best of both worlds. For example, a cotton-polyester blend can provide the soft feel of cotton, but with greater resistance to fading and wrinkles. Your choice of fiber will affect the fabric's appearance and feel, as well as how you clean it.
One last consideration: Revolution, Crypton, & Sunbrella fabrics
If you are looking for fabric that will withstand lots of spills and heavy use, The Stated Home offers several that fit the bill. Commonly called Performance Fabrics, these are either constructed of stain-resistant fibers or treated with a solution to provide durability.
Revolution fabrics (sold as our Duke fabrics) that are inherently stain-, water-, and bacteria-resistant (meaning no chemicals are used to get them that way!). The fabrics are durable, resist fading, wick away moisture, don't fuzz or pill, and are soft to boot. Stains, if they do happen, can be gently spot-cleaned with simple soap and water.
Fabrics made with Crypton technology (our Granbury and Jumper fabrics) have built-in stain and odor resistance, with excellent soil-release properties that make them easy to clean. Unlike spray-on treatments that are applied to finished fabric, Crypton is embedded in each fiber and won't ever wear off. Crypton has earned Greenguard Gold Certification, attesting to the fact that it has meets rigorous chemical emission standards. (To learn more about Greenguard Certification, visit the consumer section of their website.) The Crypton website offers step-by-step instructions on how to clean your Crypton upholstery using laundry or dish detergent. Follow their advice, and your sofa will look (and smell) its best.
Sunbrella or any other indoor/outdoor fabrics are made from durable acrylic and are also treated to be moisture resistant. They resist staining and fading and most are machine washable. Read more about perfomance fabrics here.
No matter what the durability rating of your fabric may be, it still requires regular maintenance. If you vacuum monthly to remove surface dirt, your fabric will last much longer. Nothing will wear out your upholstery more quickly than rubbing dirt into the fabric every time you sit down. We offer a primer on upholstery fabric care here. (link to care blog) Unless you like to live on the edge, don't discount the importance of checking the manufacturer's care instructions before embarking upon any upholstery cleaning project. When in doubt, call a professional upholstery cleaner. It's not worth the risk of damaging your furniture.
Like what you read? Visit thestatedhome.com to shop our collection of made-in-America furnishings.