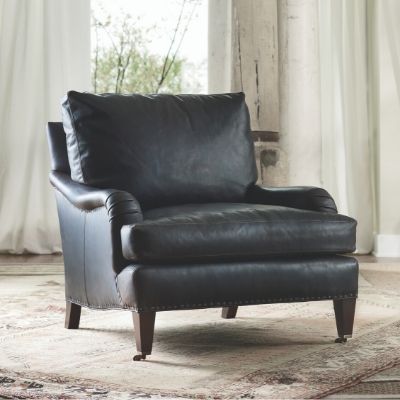 Now that you've decided that a leather couch is just what you want, you want it to last as long as possible. Leather upholstery may be strong and durable, but it still requires some maintenance to last for years. (And if you're looking for the perfect piece of leather furniture, check out our selection here.)
Dust and Debris
Occasionally, vacuum with a soft brush attachment to pick up crumbs and wipe with a clean, dry cloth. Be careful not to scratch your leather with the vacuum attachment.
Spills and Spots
Blot any spills immediately with a clean cloth. Leather is porous and a stain, once it sets, can be challenging to remove. If you find that you have a stain that is difficult to clean, blot it with distilled water on a lightly damp cloth. Always pre-test an inconspicuous area before proceeding—if a cleaning product is going to darken your leather, you don't want to find that out after starting in the middle of a cushion. Allow the leather to dry naturally – no hairdryers, please!
Cleaning Products
If distilled water does not work, then you may want to try a cleaning product designed for leather upholstery. We love the LeatherMagic™ products. If you use a cleaner that is not made specifically for leather upholstery, it may contain solvents or other chemicals that can cause damage. And please don't use the harsh products meant for cleaning horse equipment, like saddle soap. Even something like baby wipes or other alkaline cleaners can seriously damage your leather. We don't sell napped leathers, but if you have suede or nubuck pieces from somewhere else, know that they also have their own unique cleaning products and process.
If you cannot get a stain out, your piece is particularly grimy, or you are not sure how to clean your leather, it's time to bring in a professional that specializes in leather upholstery (find one at www.iicrc.org).
Conditioning
Leather may occasionally need to be conditioned. Just as with cleaning, use a product specifically designed for this purpose and always pre-test an inconspicuous area before proceeding. Do not use furniture polish, wax, oil (such as mink oil), or any product containing silicone, as they can cause damage and make the surface sticky.
Furniture Placement
And remember, to help preserve the life of your leather and keep it from fading or cracking, keep it out of direct sunlight and at least two feet away from heating and air conditioning vents, fireplaces, radiators, etc. If you must place a leather item in sunlight, apply a UV protectant which may help prevent damage. We like Leather Magic™ UV Protectant, which works like suntan lotion for your leather.
Like what you read? Visit thestatedhome.com to shop our collection of made-in-America furnishings.