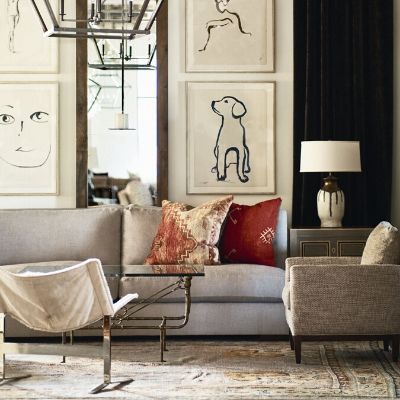 The very first piece of furniture that our founder Laura bought after marriage was a cream slip-covered sofa from Lee Industries. That was more than 10 years ago and the sofa is still the most comfortable seat in her house (and looks like it was bought yesterday). So when Laura decided to track down the best American-made goods to sell for The Stated Home, the first company she reached out to was Lee. If you're new to Lee, here are the top three reasons why the company is just the best.
American manufacturing = American jobs
Lee is family operated in North Carolina. Since all of the sofas, chairs, ottomans, and headboards are made there, they employ more than 590 skilled craftsmen in four different facilities. We know that by encouraging people to buy something from Lee Industries, we are helping create more jobs. For example, if Lee Industries sells an additional 16 sofas each week, they can hire five new associates. That's math we can get behind! Plus, 98 percent of the components for Lee Industries products are obtained domestically, primarily from North Carolina. Local suppliers translate to even more local jobs (and, while we're at it, reduced transportation costs and CO2 emissions). It's a beautiful thing.
Quality comes first
Just being made in the US isn't enough—we carry Lee Industries products because of how they're made. The craftsmen are experienced, caring, motivated, and highly-skilled. With the focus on quality, they take responsibility for every step of the manufacturing process. That means, for example, that the person in charge of the wood finish is responsible for all of the steps required to make the finish perfect (the driftwood finish alone requires nine steps). Each person feels accountable for the look of the finished piece, and you can tell that they take a lot of pride in their work. That's probably the main reason their pieces last for such a long time.
Environmental responsibility
There's a third reason we can't recommend Lee enough: A concern for the environment that matches our own. Lee is an industry leader in manufacturing environmentally-friendly products. All of their products use low-VOC finishes and wood from certified sustainable forests. You can go even further and select one of their hundreds of natural (and some organic) fabrics. Their cushions use a soy-based foam core instead of the standard petroleum-based kind and are wrapped in recycled fiber from plastic bottles (yes, you still need to switch to a reusable water bottle). This saves approximately 8,000 gallons of crude oil and and eliminates 54,000 pounds of carbon dioxide every year. Lee also doesn't use flame retardants on their pieces (an ineffective and toxic chemical linked to cancer, learning disabilities, and fertility issues). Your personal environment benefits from the addition of quality American-made furniture, and the environment as a whole benefits from responsible manufacturing.
If you're interested in Lee Industries furniture, we can help you! You can see our selection here.
For more about our love affair with Lee Industries, check out this video:
Like what you read? Visit thestatedhome.com to shop our collection of made-in-America furnishings.