Selecting new furniture isn't easy. Sure you have to think about style and color, but you also have to give some serious thought to dimensions and proper space planning. If a piece of furniture isn't the right size, you'll be reminded of that fact every time you bang your shin on your large-scale coffee table or watch your guests squeeze together on a too-tiny couch.
So, what can you do to avoid buying the wrong size? Pretend that you're buying shoes, and before you make a purchase, decide if the furniture will fit. Here are five steps that will help you do just that:
1. Take measurements.

Grab a tape measure and learn the length and width of your room (as well as any existing furniture) so that you know what space you have to work with. Don't forget alcoves or bump-outs and measure more than once to make sure that you got it right.
2. Create a floor plan.

The next step is to create a floor plan so that you can plot your furniture placement. Using your measurements from step one, sketch out the room and furniture on grid paper. Try to draw it to scale. Don't trust yourself? You can use a program or app to create your floor plan and furniture arrangement. We took a look at quite a few of them and found that Arrange a Room by Better Homes and Gardens is simple, easy to use, and will enable you to quickly put together a floor plan. The one downside is that there is a limited library of furniture and accessories to play with. If you want more options, and are willing to experiment with something a little more complex, try Floorplanner (used to create this quick floorplan seen here) or 3Dream. Both provide lots of furniture and accessories, and allow you to view your dream room from multiple viewpoints, including 3D.
3. Plan your furniture layout.

When you arrange your virtual furniture using the floor plan, think about both the pieces and the empty space around them. You want to be able to move around the room without tripping over the ottoman and to sit down without banging your knees on the coffee table. Check out these clearance guidelines to decide if that couch you love will actually work with your oversized armchair. Also think about how you will use the piece. Do you need to be able to fit four people on one couch, or would two loveseats work better? Lastly, give some thought to how balanced the room will look. You don't want it to feel cluttered by squeezing in too much furniture, or to make your furniture seem inconsequential by drowning it in too much empty space.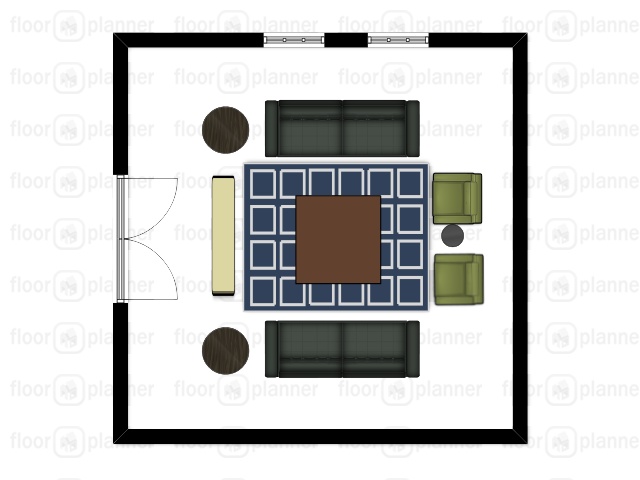 4. Visualize.

After populating your floor plan with existing furniture and potential purchases, it's time to see how the layout works in your actual space. Use painter's tape or pieces of newspaper to outline the dimensions of your new furniture on the floor. We like to also pile some books on the floor where something will go since that gives you a three-dimensional item rather than just a flat outline. Considering a larger dining table? Put a piece of cardboard in that bigger dimension on top of your existing table. And don't forget the importance of furniture height! A seven-foot-high armoire may seem overwhelming if you have an eight foot ceiling. Painter's tape is handy for mapping out the size of that armoire against the wall. Another consideration is how furniture pieces relate to each other vertically. For example, your end table should be about as high as the arm of the couch.
5. Get it home.

Now that you have decided which pieces to buy, double-check to make sure you'll be able to get them into the room (and the house). How wide are your doorways and stairwells? Imagine the disappointment of finding that perfect piece, buying it, waiting weeks for delivery, and then not being able to fit it through the door.
Like what you read? Visit thestatedhome.com to shop our collection of made-in-America furnishings.