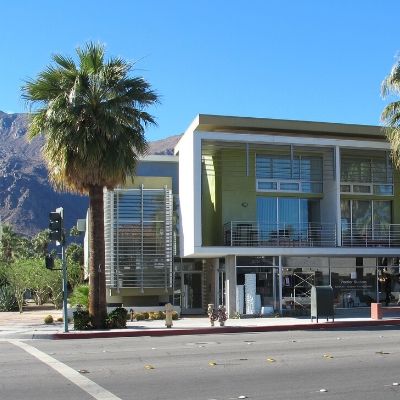 We're often lamenting about the old days, when items were made with a focus on quality and design. Well it turns out it's easy to travel back in time—just head to Palm Springs, California! It's a town where the doors are brightly colored and the made-in-America spirit is alive and well. Whether you're looking for an authentic vintage find, a local artist's creation, or five different flavors of bacon, this destination has you covered. Start your planning with our American Travel Guide for Palm Springs.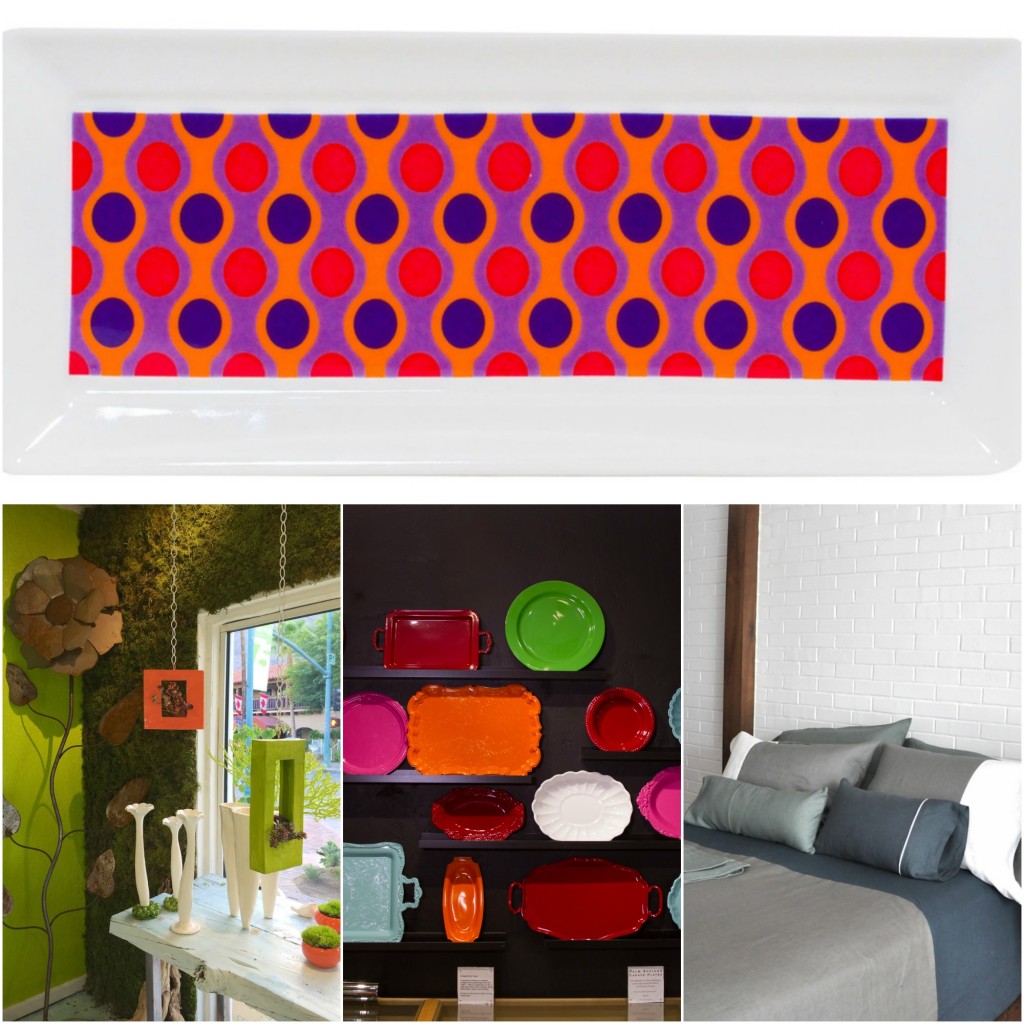 Images by: Top: Ceramic tray from Destination PSP; Bottom from left to right: hanging planters in Figg Studios, trays from Michael Weems, bedding from Modern Plum available at Raymond Lawrence
Shop for American-made products
Destination PSP |170 North Palm Canyon Drive
Walk right past the tourist spots and go here, the only acceptable place to buy a souvenir mug in this town. The designs are perfectly Palm Springs with a mid-century vibe and many products are made in America. Besides the souvenir mugs, check out the Homer Laughlin trays and ice buckets.
Figg Studios |376 North Palm Canyon Drive
We love the geometric hanging planters at this small pottery studio.
Michael Weems |384 North Palm Canyon Drive
The fun items in this store are almost as wonderful as the proprietor. His specialty is putting unique images on ceramic plates and trays that you'd eagerly pull out at your next party. We also loved his vibrantly colored vintage trays and the amazing way he turns old car parts into works of art you'd display anywhere but a garage.
Highestform |668 North Palm Canyon Drive
This store features its own brand of clothing, specializing in well-fitting cotton basics. It also carries other clothing made in America and stylish pieces like shoes and leather bags.
Raymond Lawrence |71800 Hwy 111, Rancho Mirage
While the flagship has moved the Rancho Mirage, there is an outpost in The Saguaro Hotel. This fun collection of items will keep you busy browsing. They sell everything from clothing and bedding to body care—all from independent makers. Some American finds we loved were the bedding from Modern Plum and acrylic goods from ASI.
Find Some Vintage Goodies
Retrospect |666 North Palm Canyon Drive
Don't be fooled by the nondescript appearance of this store—it has one of the best curated collections of vintage furnishings we saw. Plus many items are reasonably priced. We walked away with a wooden lion head doorknocker from Italy.
Boulevard |800 North Palm Canyon Drive
We loved the great mix of vintage and new pieces at this store. The most amazing thing we saw: new in-box rotary phones from decades ago that would be perfect for covering any obsolete phone jacks you may have on your walls.
Flow Modern |768 North Palm Canyon Drive
Looking for that mid-century statement piece? Then head over to Flow Modern where the pieces may as well be considered art. One favorite: walnut and brass nightstands.
Bon Vivant |766 North Palm Canyon Drive
A good all-around selection of vintage furniture and accessories. Chances are you'll find that quirky souvenir you've been looking for.
Eat Well
Like what you read? Visit thestatedhome.com to shop our collection of made-in-America furnishings.