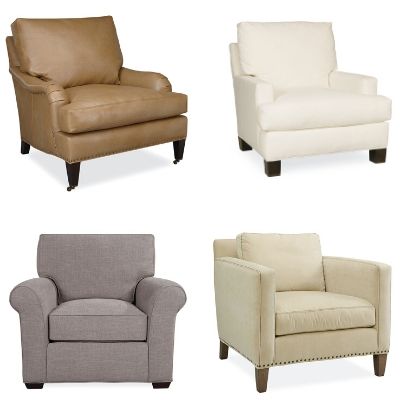 For some lucky shoppers, picking a sofa style is simple—you see a picture and boom: Love at first sight. But for most of us, it's a time to feel paralyzed by the choices. First, try not to get too overwhelmed. There's no one right style and usually more than one will look wonderful in your home. Next, take it step by step: think about back style, cushion style, legs versus skirts, and arm style. This blog focuses on the last one.
Much like you can take a pair of jeans from daytime to cocktails by switching out your flats to heels and adding some sparkly earrings, a sofa can be taken from contemporary to traditional (and vice versa) with the switch of an arm style. There are three main types that you'll find on most pieces of upholstered furniture: English Arm, Rolled Arm, and Track Arm. (Keep in mind that the height of a sofa's arms can impact how comfortable it is to lean up against them–learn more about that here.) Read on and see if one of these descriptions resonates with the look and feel you want out of your room. And head to The Stated Home once you're ready to shop for your next sofa.

English Arm
If we're sticking with the shoe analogy, think of the English Arm as the classic black pump: It instantly dresses up anything and will never go out of style. The most traditional of the arm styles, it's low and set back with a slight roll. It brings a tailored look into a space and, while it does lend an air of formality, can also look at home in a casual cottage or beachy space. Bring it into this century by pairing it with a tapered leg or put it with a skirt to keep things really fancy.

Rolled Arm
The Rolled Arm is the riding boot of furniture arms: traditional styling that's a bit more casual. Much like how you can dress up your boots with a fancier skirt, this arm style can be formalized with a dressier fabric. A popular choice with slipcovered sofas, the rolled arm can make a space feel comfortable and relaxed and provides an extra comfortable spot to lay your head. Add nailheads to dress it up a little bit and show off those curves.

Track Arm
This is the equivalent of your favorite functional flat. The Track Arm (also called a Straight Arm) can work in any type of space. Use it to modernize a traditional space, stay true to a mid-century vintage feel, or blend seamlessly with a contemporary style. This is also a smart choice for smaller rooms because it takes up less overall space than the other arm styles. Pair it with a skirt to make it look more traditional or show off the legs to keep things looking clean.
Now for a final piece of advice: Don't get too hung up on the details or overanalyze this decision. Listen to your gut and trust your inner style! Interior design is the sum of its parts and any style of sofa arm can be adjusted with rugs, chairs, accessories, and artwork. That is, unless you buy a motorized sofa recliner with cup holders. Nothing can help you then.
Like what you read? Visit thestatedhome.com to shop our collection of made-in-America furnishings.