Different styles of sofa and chair arms can definitely make a style impact, but that's not the only factor to think about when considering the arms. How high or low the arms are on a piece of furniture can make a big impact on how comfortable it ends up being. Arm Height is one of the four factors we use in our comfort rating system, ABCS Comfort Metrics (the other three are Cushion Fill, Seat Depth, and Back Support).Here's how to determine if a sofa's arm height is right for you and your home (and once you decide, head here to shop our selection).
Furniture Arm Height and Comfort
When thinking about furniture comfort, arm height is probably the least important of the four factors. That's why most people prioritize the style of a sofa arm (read more about that here) over how it will impact comfort. That said, if you're the kind of person who enjoys leaning up against a comfy sofa arm, it's important to pay attention to arm height.
When talking about arm height and comfort, we don't look at the overall arm height. Instead, we measure the inside arm height, which goes from the top of the seat to the top of the arm.
Arm Height 1: 6 inches or less
Arm Height 2: 7 to 9 inches
Arm Height 3: 10 inches or more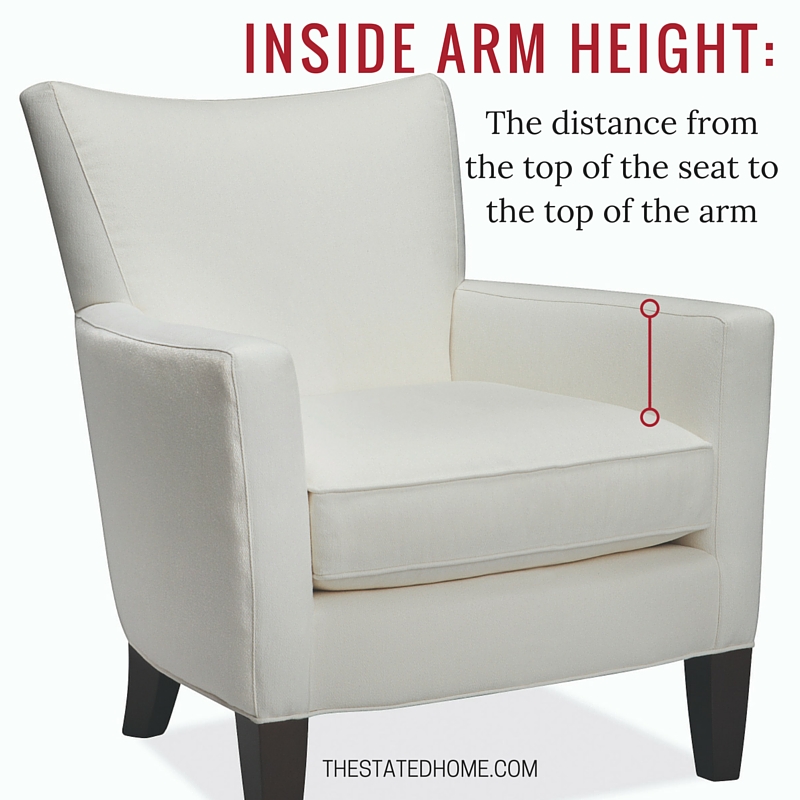 Higher arms are better for leaning against, so if this is important to you, look for a piece with an Arm Height of two or three. If you will mostly be sitting upright, arm height won't matter as much. We give the arm height for chairs too, but you can get away with lower arms in chairs since you mostly sit upright in them. Shorter arms also matter less in more formal rooms, where there isn't much lounging.
If you really fall in love with the style of a piece that happens to have shorter arms (or you need a shorter arm because of the style of the room), a strategic pillow placed against the arm may be able to provide the support you need.
While we're talking about arms and comfort, we should mention that arm style does play a role. You can read about the different arm styles here, but it's worth mentioning that rolled arms are slightly more comfortable than track arms.
Furniture Arm Height and Design
Much like the right outfit can make you look taller and skinnier, a furniture arm can help create flattering illusions in a space. If you have a small space, choose a sofa with a shorter British arm to make the room look more open. On the other hand, taller arms can make rooms with tall ceilings feel more intimate. With taller arms (those with Arm Height 3), it may be more difficult to reach side tables. If you want taller arms, just make sure there's a cocktail table within reach for drinks and other items.
Keep in mind that sofa and chair arms do not have to match. We actually prefer they don't. So if you love the style of a shorter arm, but don't want to risk sacrificing comfort, choose a chair with low arms and get a sofa with taller ones.
Like what you read? Visit thestatedhome.com to shop our collection of made-in-America furnishings.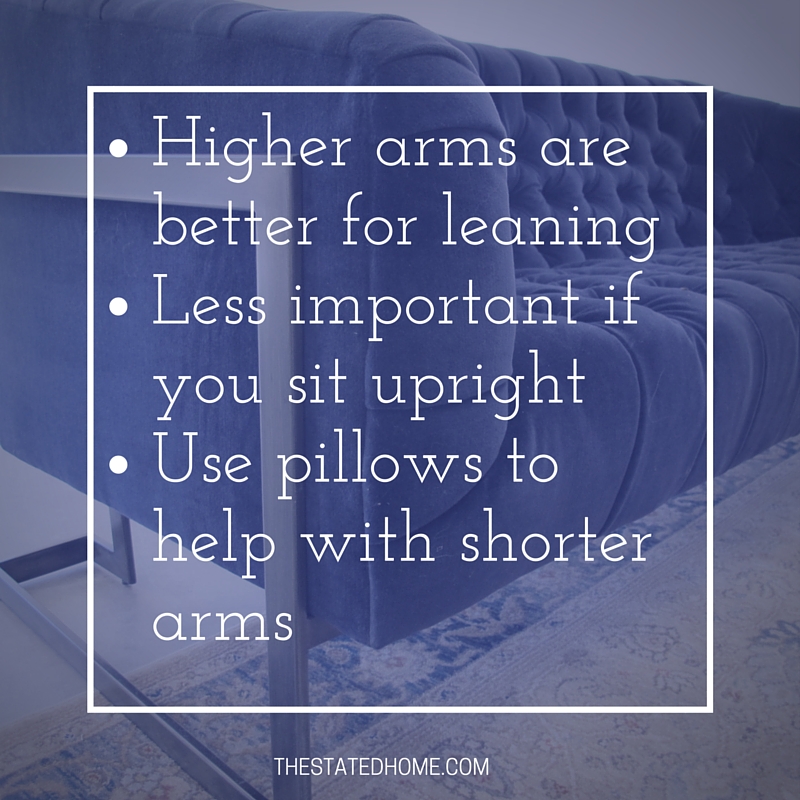 Learn more in our Furniture Comfort: Arm Height video