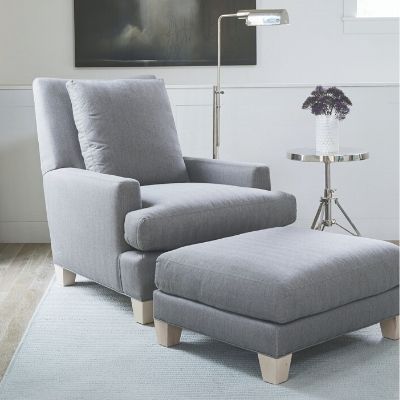 You may not think a lot about types of pillow stuffing, but the softness of sofa seat cushions is probably what you mean when you talk about furniture comfort. And it's a very personal thing. For every person who loves a "sink down" feeling when sitting on a sofa, there's another who prefers a firmer, more supportive seat. Cushion Fill is one of the four factors we use in our comfort rating system, ABCS Comfort Metrics (the other three are Seat Depth, Arm Height, and Back Support).
The great thing about seat cushions is that almost any piece of upholstered furniture can be made with any kind of seat fill. With the sofas we sell at The Stated Home, we offer three types of seat cushions and three types of back cushions, so all you have to do is pick the combination that works best for you.
So what are your options? First up, the seat cushions. Here are more details on the options, from softest to firmest:
Foam Fiber
This cushion is our softest option. It has our eco-friendly foam core wrapped in a recycled polyester fiber. While it would benefit from a weekly rotation to keep the wear even, it keeps its shape well if you forget every now and then. (You're busy! No judgment!) If you're familiar with Lee Industries' cushions, this is called NaturalLEE.
Spring Down
This cushion is a happy combination of softness and support. It has springs in the core to firm up the seat. The springs are then wrapped in feather and down, making them beyond comfortable to sit in. This is called Cloud Nine by Lee Industries.
Spring Fiber
The most supportive of the bunch, this seat cushion has the same spring core, but it comes wrapped in polyester fiber. This is a great choice if you want a seat cushion that holds its shape without a lot of maintenance (fluffing, rotating, that sort of thing).
Back Cushions
When it comes to back cushions, they can be filled with either down, down alternative, or polyester fiber (going from softest to firmest). Down (Lee Industries' Haven) is the kind that will envelop you as you lean back, but it requires fluffing and rotating to keep its shape. That said, fluffing back cushions is a lot easier then fluffing seat cushions, so don't be deterred by that if you really want to be cocooned in downy softness. Polyester Fiber (aka NaturalLEE) is more supportive, yet still soft and comfortable. For a happy middle ground, go with down alternative (Lee's Plush cushions).
Here are a few more things to think about as you ponder your cushion-fill options:
Do you like that sink-down feeling when you sit on a piece of furniture?
If so, our Foam Fiber seat cushions and down back cushions are the right choice.
Will it bother you to have an unkempt-looking sofa or to have to fluff pillows regularly?
Down cushions can be more high maintenance than others because they need to be fluffed regularly. Our down alternative back cushion is a great option for those that want a soft seat without as big of a fluffing requirement.
Will you be buying leather?
If you're getting a leather chair or sofa, go with a spring core cushion to help reduce stretching. When a cushion is too soft, the leather stretches as you sit, ultimately forming a kind of puddle on top.
That's a lot of info! Here's a quick guide for choosing seat and back combos:
| | | |
| --- | --- | --- |
| Firmness Level | Seat Cushion | Back Cushion |
| Softest | Foam Fiber | Down |
| Soft | Spring Down | Down Alternative |
| Supportive, yet soft | Spring Fiber | Polyester Fiber |
| | | |
Like what you read? Visit thestatedhome.com to shop our collection of made-in-America furnishings.