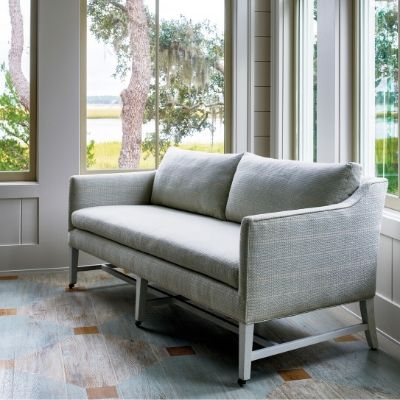 When choosing a sofa (or any other upholstered piece), we tend to go straight to the fun stuff: style and fabric selections. But a sofa doesn't just need to look pretty, it has to be made well and have quality bones. Remember those TV ads selling slats designed to firm up a sagging couch? Pass! There's nothing more frustrating than spending good money on a sofa that doesn't last, no matter how gorgeous it is. So how can you know if you're buying a quality piece? The key is to start with a solid foundation: the frame and springs.
First, know that all sofas sold on The Stated Home have already passed our strict standards for frames and springs (we did the research and legwork so you don't have to!). You don't have to worry about wobbly arms or squeaky springs, we promise.
Now, keep reading to find out what we looked for. Hopefully knowing our standards takes some of the uncertainty out of the buying process for you.
Rule 1: A sofa is only as good as its frame.
In order for a sofa to last for more than a couple of years, it must be built on a sturdy frame. The key term to look for is "kiln-dried hardwood," though furniture-grade plywood can also provide a quality product. Other tips: Pine typically has knots, so it may be prone to crack or warp, and frames made of plastic, metal, pressboard, fiberboard or particleboard aren't even worth considering (trust us). Even with high-quality materials, the frame has to be well-assembled. That means wooden corner blocks for reinforcement and joints connected by wooden dowels or metal screws and brackets. Staples and glue may be used to add strength, but if they are all that's holding the frame together, your sofa isn't going to last very long. Legs may should be either a part of the frame or attached with screws or dowels. If they are only glued on, that sofa has a wobbly future.
Rule 2: Saggy, squeaky sofas can be avoided.
Sofas have springs to support the seat cushions. But when springs break down, you've got sag and you've got squeak. The highest quality of springs are called "eight-way hand-tied." They use hourglass-shaped coils that are strapped to the bottom of the frame and tied together to prevent rolling to the side or front edge. There is another option—serpentine springs—which are pre-assembled units of snaking wire. Some experts say serpentine springs can feel as comfortable as eight-way hand-tied, but we aren't convinced. That's why you won't find them on our site. Oh, and sofas with webbing or mesh instead of springs should be kept far away from your living room—they will end up uncomfortable and flimsy.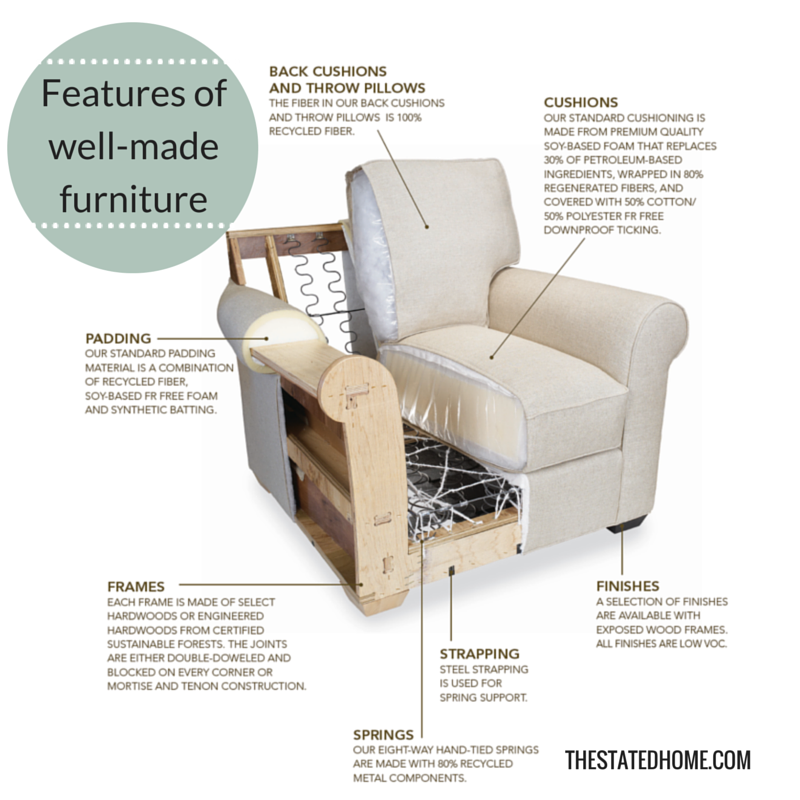 In addition to meeting the above criteria, sofas for sale on The Stated Home, have been physically tested for excessive movement. Yes, that means we pushed on the back rail and arms to make sure they stayed firm and that there was no twisting when we lifted the front corner leg six inches off the floor (a standard test for quality). To make sure we aren't selling you squeaky sofas, we have sat down on every sofa we sell and pushed on the deck under the cushions to make sure the springs are evenly spaced and of equal resistance. There you have it—the not-so-glamorous side of curating our sofa collection! Here at The Stated Home, you don't have to worry about these criteria because every sofa is built on a solid foundation. That means you get to focus on the fun stuff—style and fabric!
Like what you read? Visit thestatedhome.com to shop our collection of made-in-America furnishings.