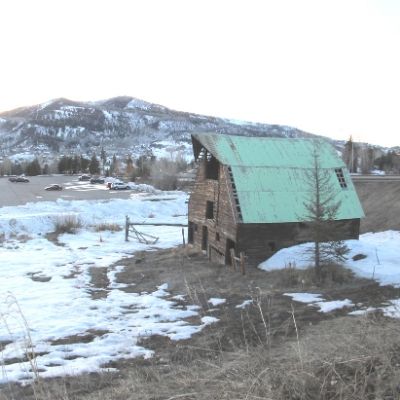 We love Steamboat Springs for its winter powder, gorgeous summer weather, and the old-west American spirit that resonates throughout it. The main street looks the same way we imagine it would 100 years ago, only now it's filled with bars offering amazing happy hour specials and boutiques selling handmade goods from Colorado. Get excited about going there with our American Travel Guide to Steamboat Springs.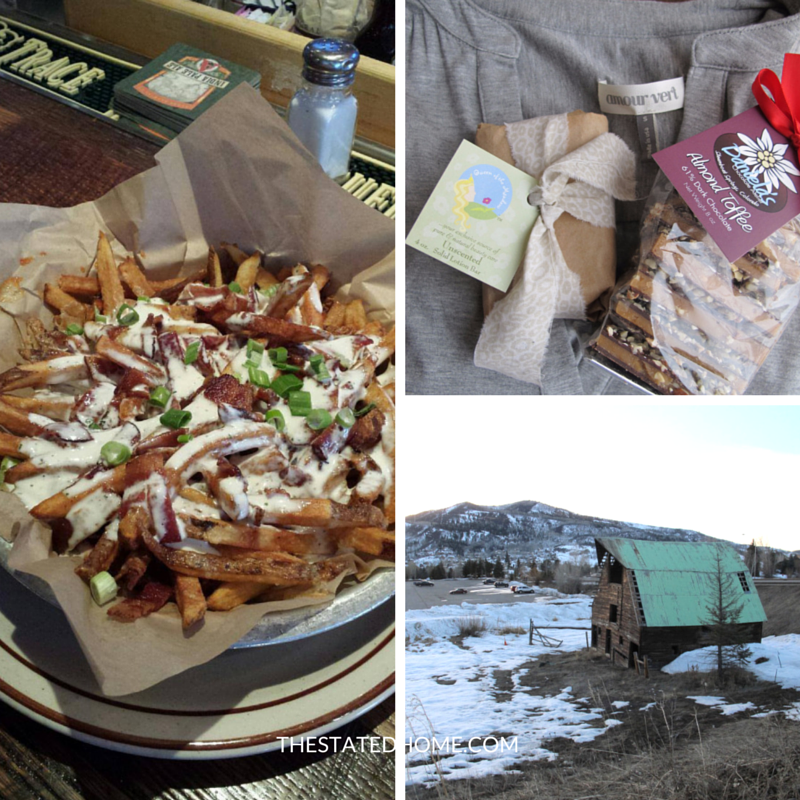 Images by The Stated Home: "The business" at Carl's Tavern, American-made goods (Amour Vert shirt from Romicks into the West, Daniela's chocolate toffee from The Homesteader, Lotion Bar from The Homesteader), Old Barn at Steamboat Springs Ski Resort
Shop for American-Made Products
Romicks into the West | 402 S Lincoln Avenue
This large two-story shop doesn't just carry home furnishings fit for the chicest of western homes, but also clothing, shoes, and jewelry. We walked away with an environmentally-friendly, supersoft t-shirt from Amour Vert, a patterned plate from Terrafirma Ceramics, and plenty of interior design inspiration.
Branches | 624 Lincoln Avenue
This gift store has the best collection of Colorado-made goods in town. The soaps and lotions from Ranch Organics are full of nourishing botanicals and the candles from Rosy Rings are inspired by nature and made in Denver. There is also a great selection of local art here.
Steamboat Art Company | 903 Lincoln Avenue
This store sells a lot of jewelry made locally as well as around the country. They also have beautiful handmade pottery from western artists.
Off the Beaten Path | 68 9th Street
Step inside this bookstore and instantly be reminded that there's more to buying books than Amazon. This store has a great selection of bestsellers and local interest books, like where to hike, fictional stories that take place in Colorado, and historical accounts of the early settlers. And like any proper bookstore, they sell coffee and tasty treats.
The Homesteader | 817 Lincoln Avenue
If cowboys opened a Williams-Sonoma, it would look like The Homesteader. This kitchen store not only has any cooking gadget you need, but also carries a nice selection of local food. The beef jerky from the Sweetwood Cattle Company is the best beef jerky we've ever had. And it takes a stronger willpower than we have to leave the store without purchasing something from Daniela's (the sweets are made in the store!). In case you need a pretty board to display your jerky and candied pecans, grab a cutting board from local woodworker David Winters.
Ace Hardware | 2155 Curve Plaza, Steamboat Springs, CO 80487
You may think it odd to feature a hardware store among a list of cute boutiques, but as a home improvement junky I can't get enough of this one. It's located right outside of town, is locally owned, and sells more than just paint and picture hangers. You can also find items for mountain recreation, fancy coffee makers, and (mostly) tasteful décor items. Plus, any place that gives you free popcorn gets our approval! In a town with no Target, this place does more than fill the void.
Eat Well
It's hard to have a bad meal in this town. Options range from the casual café to fancier restaurants that would be at home in any large city. This list features our highlights, but we encourage you to try most any other place in town – you won't be disappointed.
Carl's Tavern | 700 Yampa Street
A casual restaurant with a lively bar, we've yet to order something bad from this place. While it's easy to eat healthy here with their fish specials, gourmet salads, and rotisserie chicken, it's the less-virtuous dishes that are hard to resist. Their cheese fries, appropriately called "The Business," and burgers hit the spot after a day spent skiing or hiking. Their happy hour offers one of the best deals in town–a tasty, local beer is only $3!
Eureka Mediterranean Street Food | 700 Yampa Avenue
Around the corner from Carl's, and from the same owners, is a great place for a quick bite—especially outside in the summer. The term "Mediterranean" doesn't just mean falafel and hummus (although both are great here), they also offer dishes from other Mediterranean countries like Spain and Italy. That means you can get your chickpeas with a side of pizza. Oh yeah, and their cocktails don't disappoint.
Creekside Café & Grill | 131 11th Street
Creekside Café is the breakfast spot in town and often has the long wait to prove it. Don't let that discourage you from enjoying a meal made from locally sourced ingredients. If you're lucky enough to be in Steamboat in the summer, breakfast outside next to the creek can't be beat. For a truly ridiculous, yet delicious, breakfast, try the Waffleaughagus- a malted waffle covered in sausage gravy.
The Paramount | 1866 Ski Time Square Drive, Torian Plum Plaza
This café gives a from-scratch, gourmet twist to breakfast and lunch and makes a mean cappuccino and cocktail. The breakfast burrito and both French toast options are amazing and at lunchtime go for the flank steak salad and pesto chicken sandwich.
Truffle Pig | 2250 Après Ski Way
The Truffle Pig is a ski resort's take on a gastropub and features a large patio to dine outside at the base of the mountain (even in winter, thanks to heaters!). Many of their appetizers show up on the happy hour menu and you can make a decent tapas-style meal out of them. Or get a proper meal with entrees like steak frites or Colorado lamb.
Steamboat Springs doesn't lack for things to do, whether it's skiing in the winter or attending the weekly rodeo in the summer. Whatever season you're there, don't leave without doing our favorite activity: tubing. In the winter evenings there's snowtubing downtown at Howelsen Hill, but we recommend driving a little out of town to Saddleback Ranch. There you can fly down a hill during the hours of 10:00 – 5:30. Summertime brings tubing down the Yampa River where you (and your adult beverages) can enjoy nature's take on a lazy river.
Like what you read? Visit thestatedhome.com to shop our collection of made-in-America furnishings.