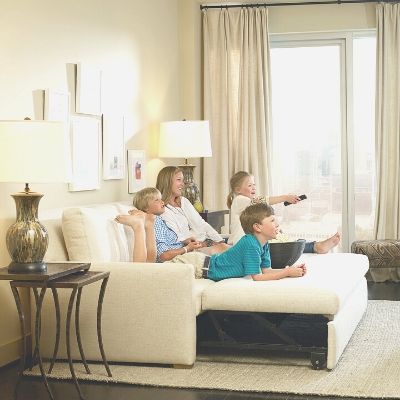 A lot of people believe they shouldn't invest in good furniture because they have small kids full of destructive tendencies. While this logic may sound solid on the surface, it ends up falling apart when you dig a little deeper.
If your furniture is getting trashed by your kids, it's probably because it's poorly made. If you invest in quality, American-made furniture, it will stand up way better to daily assaults from the little ones. It's also better for the environment (less junky furniture in landfills), costs you less money in the long run (you don't have to keep re-purchasing sofa after sofa every few years), and it means you can create the house you want now as opposed to waiting until your kids graduate from high school.
Here's why high-quality wins out in the battle for kid-resistance furniture:
By making an investment in your furniture when you have smaller kids, you can work on teaching them to care for nice things. That said, accidents happen. Our co-founder Laura was once a well-meaning kid who accidentally spilled acetone nail polish remover on her mom's dining table. Let's just say acetone removes a lot more than nail polish. To help reduce your own potential heartache down the road, keep these smart shopping rules in mind:
Embrace the slipcover. This is the best way to easily get rid of sofa stains. There are some great options out there, including modern styles without skirts. Slipcovers have a slightly looser look to them, but if you can get past that, you will fall in love with being able to wash your whole sofa. And it's non-negotiable if you're going for a white sofa.
Look for performance fabrics. For those of you who won't go with a slipcover, a stain-resistant performance fabric is a must. Some can even be washed for extra security. We briefly go over the different options here in our blog about pet-friendly furniture (not that your kids are animals, but they might behave similarly sometimes). We go more into the different types of performance fabrics here.
Pick your fabrics wisely. Look for fabrics with texture and some color variation to help hide dirt.
Buy wood furniture that's distressed. Think reclaimed wood or something with a vintage patina. Pieces with distressing are very good at hiding scratches and dings.
For modern wood furniture, variation is your friend. The more solid the color, the more visible marks will be. Opt for wood that has a visible wood grain (ash and oak are good options) or finishes that have some different shades in them.
One last piece of advice: Embrace some imperfections and be okay with the fact that things won't look brand new forever. Laura's mom's dining table with the acetone-affected finish was a solid-oak 1980s masterpiece. It lasted so long that it eventually ended up in her own house, where she would still sometimes do her nails on it.