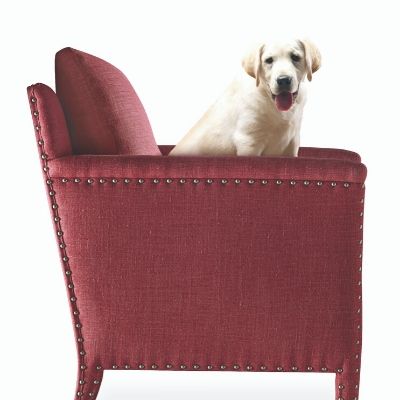 The majority of people we help with furniture shopping bring up that they have a cat or dog at home. That's not surprising since 68 percent of households have a pet (ours included!). The NUMBER ONE thing you can do to protect your furniture is to not let your animals on it. But we know from personal experience that cats do whatever they want and dogs eventually figure out how comfy a sofa is–even if they only sneak onto it when you're out of the house. And if you're lucky enough to have pets that don't get on the furniture, they probably still enjoy laying up against it. That's why we suggest all pet owners keep in mind a few things when choosing new furniture.
The main focus here is on fabric choice. There are three main issues to consider:
Stain Resistance: How easy is it to clean up messes?
Fur Resistance: Will fur stick to the fabric?
Scratchability: Will claws penetrate or damage the fabric?
Stain-Resistant Fabrics
Stain resistant fabrics are more commonly called performance fabrics. We go into depth on performance fabrics here, but here's a quick summary:
Performance fabrics fall into one of the following categories:
Those that are woven with a fiber that is inherently stain resistant: Acrylic for Sunbrella fabrics, Olefin in Revolution fabrics (the same fiber used in indoor/outdoor rugs), or Polyester for Inside Out fabrics. These fibers can also typically be cleaned with bleach.
Stain-repellent moisture barriers that are embedded in the fabric. Crypton is the most common one.
Tight weaves that repel liquids and stains (microfibers)
Some performance fabrics combine both an inherently stain-resistant fiber with an additional stain treatment. Sunbrella does this with their fabrics by adding a treatment that makes the fabric moisture resistant. This is a great combination, but just know that as soon as you wash the fabric, the coating comes off and needs to be reapplied.
Microfiber is our least preferred option here. Not only does it not look as good as the others, but there is no stain-resistance besides how it's woven. Stains can come out, but not as easily as the other options. It can also be very static-prone, which is not good for pet hair.
As for the other two options, stain-resistant fiber and fabrics with moisture barriers, one is not necessarily better than the other. There are thousands of fabrics that fall under each category and there will be some in each group that are better than others. A few factors to think about:
Look for tighter woven fabrics that can't be snagged with pet claws
Avoid white – it always starts to look a little dingy and that happens way faster with pets
If you're concerned about pets peeing or pooping on your furniture, get something that can be bleached: Revolution, Inside Out or Sunbrella
There's one more thing to know about performance fabrics: They don't repel dirt. Your sofa will still get stains, but when you clean them, the dirt will come off a lot more easily. There is no fabric that completely repels dirt (leather is probably the best at this, but even then you'll see it on lighter colors). That said, you can choose fabrics that show less dirt by getting those with a texture or with some color variation.
Leather With Pets
Leather is great for pet-owners because it's relatively easy to wipe clean and hair barely sticks to it. We go more into depth on certain types of leathers here. Some leathers can scratch very easily (always test the swatch at the store with your finger nail), while others won't show scratches at all. Leather is a pretty good option for dogs without pointy nails, but cats and some smaller dogs may still get their claws into the surface of the leather. A few things to think about:
Protected leathers have a coating that add more resiliency
If you choose a distressed-looking leather, new scratches won't be noticeable
Keep a bottle of leather conditioner on hand – it can remove or diminish a lot of scratches
All leather can be punctured, but there are amazing leather repair experts who can fix it and make it look perfect
Slipcovers: Just Do It
We are huge fans of slipcovered pieces. They're just so easy to clean and come out of the wash looking brand new. Learn how to take care of slipcovers here. Also if something happens to the slipcover that is not washable or repairable, you can order a new slipcover for half the price of a brand new sofa. The downside of slipcovers is that they aren't available in every style and some people don't like the looser look (although there are a lot of good options out there that look more tailored). If you want to find out whether or not slipcovers are right for you, you can visit our post on that here.
There are even some fabrics that are both stain-resistant and washable (doesn't get better than that!). Most Sunbrella fabrics fall into this category as well as some Crypton and Inside Out fabrics (just know that most of these have to be air-dryed).
Spray Treatments
After-market fabric sprays like Scotch Guard can be a good option for fortifying regular fabrics or as an extra line of defense on performance fabrics. The issue with these is that they wear off with use or when you wash them. As a result, they have to be reapplied yearly or after every washing. They also contain more chemicals than performance fabrics do, which can affect indoor air quality. There are also upholstery cleaning companies that will apply a spray for you if you don't want to go the DIY route.
Fur Resistance
It's a good thing pets are so cute, because man does their fur get everywhere. We keep pet fur mitts nearby for easy cleaning, but here are some other tips:
Look for smooth fabrics since hair won't get embedded and they're easy to wipe off
Avoid microfibers because they are static prone
Get a color close to the fur color of your pet – you'll naturally see less of it
Furniture as a Scratching Post
Yes, cats like to claw nubby fabrics–and pretty much anything else they can get their claws into. Try to keep that to a minimum with these tips:
Avoid open weave fabrics like linen and look for a smoother texture with a tight weave
Velvet is really good for cats because it is woven tightly – there are some performance velvets on the market for that added stain resistance
If you like the look, go for a slipcover that can be replaced if it gets completely ruined by claws
Stain-Resistant Rugs for Pets
Though not technically furniture, rugs and carpets also need to be considered when living with pets. Just like with fabric, choosing a stain-resistant rug doesn't mean it won't get dirty–just that the dirt will come out easier.
Avoid 100 percent wool rugs since they are the most difficult to clean. We're big fans of Karastan rugs – not only are they made in the U.S.A., but most are made from either Everstrand or Smartstrand fibers that are inherently stain resistant. They're also a lot softer than wool rugs, so they feel more comfortable under foot. There are a few styles that mix wool and Smartstrand, giving you the look of wool with some added protection.
Because most of these rugs aren't 100 percent wool and are machine-made, they are also more reasonably priced. This helps lessen the heartache if a pet-related disaster strikes and you need to replace it. Smartstrand and Everstrand are also available as wall-to-wall carpet under the Mohawk brand. Another option would be to look for a rug made out of Polypropylene (these are typically indoor/outdoor rugs). They can be washed with soap and water and can even be bleached.
Here are a few more rug shopping tips:
Avoid rugs with loops if you're concerned about cat claws
A thicker pile will be harder to get hair out of
Area rugs are a better option than wall-to-wall carpets because they can be transported to a rug cleaner or they can be easily replaced
For help figuring out the best pet-friendly furniture, reach out to us at butler@thestatedhome.com or fill out our online form.