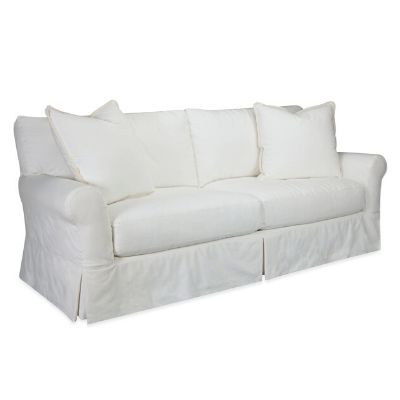 Replacing the slipcover and cushions on your Lee Industries sofa is an easy way to get some more good years out of a favorite piece of furniture. We get a lot of requests from customers about how it works, so we wanted to clear up some confusion. First off: No, we aren't talking about those off-the-shelf one-size-fits-most slipcovers that look like loose sheets with sofa arms at the ends. This is about covers made by your sofa's manufacturer designed to fit your exact style. Also, while we sell Lee Industries at The Stated Home, the information below applies to any sofa where the manufacturer offers replacement covers. (If you need a replacement Lee Industries slipcover, head to the bottom of the blog where we have all the details on how to order one through us.)
How much does a new slipcover cost?
This is what everyone is wondering when they first start thinking about replacing an old slipcover. While a slipcover isn't nearly as expensive as a new sofa, it's not inexpensive either. The final price depends on the fabric you choose, but it will probably be between $800 and $1500 for a sofa. If you're going with a cotton twill slipcover (this is the fabric you probably think of when you imagine a slipcover), you'll probably spend around $1000.
We know what you're probably thinking: "$1,000?? I can get a new sofa for that much!" You could, but before you go out and buy a poorly made sofa, here's why a slipcover might be a smarter idea.
A brand new high-quality sofa (like the ones made by Lee Industries) costs close to $3,000. Your current piece is solidly built and can easily last many more years. A new, cheap sofa won't stay comfortable for anywhere near that long. Your $1,000 will be a better investment if you simply update your existing well-made piece instead of replacing it with something that's lower quality.
Why do slipcovers cost so much?
The main reason is because you need a lot of fabric to cover a sofa. Sturdy upholstery fabric costs anywhere from $30 a yard (for cotton canvas) to more than $100 a yard for linen. And you need 15 to 25 yards of fabric for a sofa slipcover. That means the fabric alone will cost $450 on the low end to well over $1,000 on the high end. Add in the skilled labor and you can see why they are so expensive.
Can you slipcover an upholstered sofa that is wearing out?
If you have an older upholstered sofa that's also available in a slipcovered version, you might be able to buy a new slipcover and simply put it over your existing piece. The main thing you need to pay attention to is the texture on your existing fabric. It should be pretty smooth because if it's too nubby, you may be able to feel it through the slipcover. There may also be some details, like welts, that will cause some bumps under your slipcover. You'll need to pay attention to color: If your existing sofa is dark or has a crazy pattern and you put a white slipcover over it, you may be able to see it through the slipcover.
Can I get a slipcover for a sofa style that's been discontinued or was purchased a while ago?
The answer to this depends on the manufacturer. Unfortunately, Lee Industries has stopped making slipcovers for their discontinued styles. Not all is lost though, you should be able to find a local upholsterer that can make a replacement using the current slipcover as a pattern.
If your sofa is older (more than 10 years), but is still a current style, the style may have been tweeked a little throughout the years. Most likely the slipcover will fit fine, but there is a small chance that it won't be exact. If this is happens to you, then you would have to get a local upholsterer to tweek it locally as Lee Industries isn't responsible for the cover fit on these older pieces. Once we know your style number we may be able to tell you if this will be a potential issue or not. If you are uncomfortable that the fit is not guaranteed, then you should be able to find a local upholsterer that can make you a new slipcover using the current slipcover as a pattern.
If you decide to use a local upholsterer, but want to make sure your fabric is washable, we are able to help with finding a fabric and selling you the yardage you will need. The upholsterer should be able to tell you how much they will need.
How to Find Out if Your Lee Industries Style is discontinued
Depending on when your sofa was purchased, your style number may be on your order tag (see below for where to find that). If the style number is on the order tag, you can go to the Lee Industries website and type the style number in the search bar. If it is a current style it will show up and you may be able to get a slipcover for it. Email us as outlined below to move forward.
If you type in your style number and nothing displays, unfortunately the style is discontinued and you will have to find a local upholsterer to help with your new slipcover.
If you don't have a style number on the tag, then email us as outlined below with the tag information and we can get the style number for you and tell you if a slipcover is available.
What fabrics are available?
You can see and order swatches (up to 10 per day) of the available washable fabrics on the Lee Industries site here. However, color and texture are very difficult to determine online so it may be easier for you to email us at butler@thestatedhome with the color that you're going for and we can send you some suggestions.
Can I replace the cushions too?
While we're on the topic of refreshing your furniture, we want to talk about replacement cushions. Sofa cushions won't look be the same after 10 years of use as they did on day one. They'll get softer and less supportive, even if you care for them perfectly (you can read about that here). This is most apparent in cushions with a foam core and down. Some people prefer this softer, "broken-in" feeling while others prefer the way their cushions used to be. If you fall into the second group, consider new cushion cores.
You can order them directly from the manufacturer and they will cost $300 to $400 for seats and $100 to $175 for backs (that's the total cost for your sofa, not for each individual cushion). The annoying thing here is the shipping – they are too big to ship common carrier (UPS or FedEx), so they have to ship freight. The best way to get replacement cushions is to go through a local retailer if you can – they may be able to add the cushions to another order they have, saving you a little on the freight. If you can't do that, expect the delivery to be another $100 to $300.
If the manufacturer doesn't sell replacement cushions, look for a local foam company or re-upholsterer. Just make sure they use a foam core wrapped in some sort of fiber, like dacron, for the best feel.
We've helped customers replace slipcovers and/or cushions for sofas that are almost 20 years old and still going strong. If you have a good piece of furniture that's still sturdy, this is an easy way to make it look like new and get a lot more years out of it.
Next Steps If You Need a Replacement Slipcover
If you would like to order a replacement slipcover, we are happy to help. Send an email to slipcovers@thestatedhome.com and include the following:
Style number: If you know the style number of your furniture, then you get a gold star – please include that in your email. If you are like most people and don't, then we can get it from the tag on your furniture (see below for an example). The "prod id" (the main number we need) and, on more recent tags, the style number will be on a large white tag which will be on the deck (the part of the sofa or chair the cushions rest upon) or, if there is no seat cushion, under the seat. The best way to get us this info is to take a picture of the tag and send it so we can make sure we get the correct numbers and so there are no errors in communication. If you can't find the tag, then proceed to the next step.
Picture of your furniture: This is a good place for us to start if there is no tag. It's also a good way for us to double check the style number and make sure we're ordering you the correct slipcover.
The color and/or type of fabric you are going for: We can send you fabric swatches right away.
Your mailing address: This is so we can get those swatches to you.
Phone Number: It helps to have this in case we have any questions.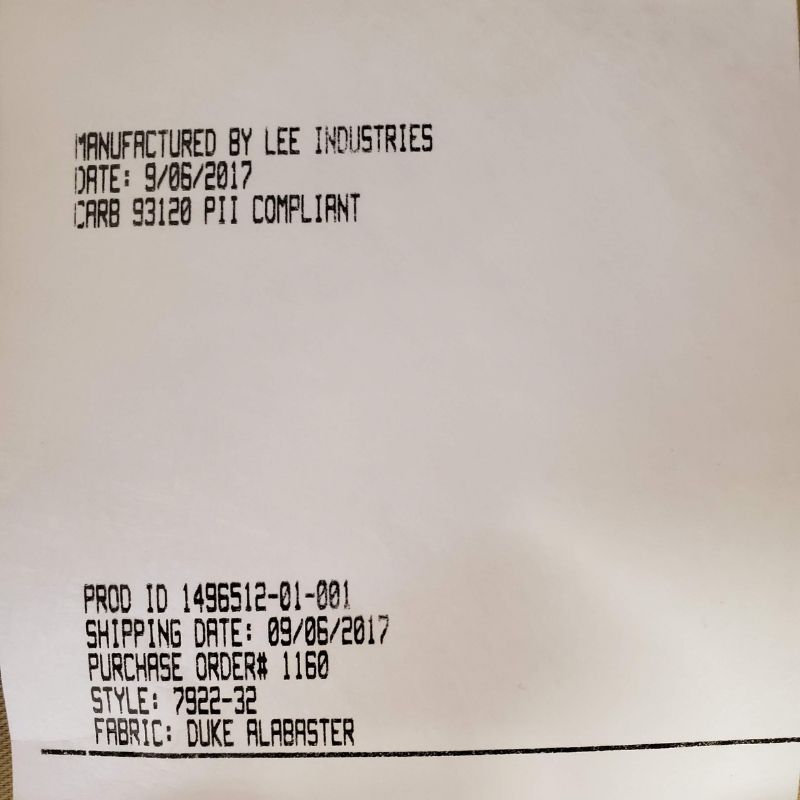 Ballpark Pricing
The final cost of your slipcover will depend upon your furniture style and the fabric you choose. The common slipcover cotton twill fabric tends to be the least expensive, so we are giving estimates here for that as a starting point. Just know that pricing can be higher in a different fabric.
L-Sectional: $1900
Chaise Sectional: $1600
Sofa or Loveseat: $1000
Chair and a Half: $650
Chair: $500
Ottoman: $200
Dining Chair with Skirt: $250
Dining Chair with No Skirt: $200
Host Dining Chair with Arms & Skirt: $450
Then What Happens?
When the fabric is finalized, we will let you know the price. If that sounds good to you, we will send you an invoice and, after payment is received, it takes about 4 weeks for the slipcover to be made. It ships out straight to your door!
If you need help with a new slipcover, PLEASE EMAIL instead of commenting on this post – it is a much more reliable way of getting in touch. We can be reached at slipcovers@thestatedhome.com