It's almost impossible to take a quick glance at a piece of wood furniture (aka casegoods) and figure out if it's quality or not. But if you take a few minutes to check out how it's constructed, you'll be able to get a pretty good idea of whether the piece was built to last or built for the landfill.
We covered the specifics of wood material, wood species, joinery, veneers, and finishes, which are all important, but they can be difficult to determine if you're just out in a store browsing the selections. Luckily, there are certain features that you can spot pretty easily, giving you a clue to a piece's quality.
Where Is It Made?
You won't be surprised that we suggest purchasing American-made if you can (a) find it and (b) it's in the budget. It raises the odds that you'll get a piece made with good craftsmanship and environmental responsibility. Most American manufacturers make it well-known if a piece of furniture is made here. If you can't tell, you should probably assume it's made overseas. We go into detail on deceptive labeling on our blog post here, but here's a quick summary:
Best: Made in America, Made in USA, American Made
Good: Made in USA of Imported and Domestic Components
Okay: Assembled/Finished in the USA or Made in Canada
Avoid: Made of Domestic Hardwood, Designed in USA, Imported, Made in…..any country that may treat their workers poorly and harm the environment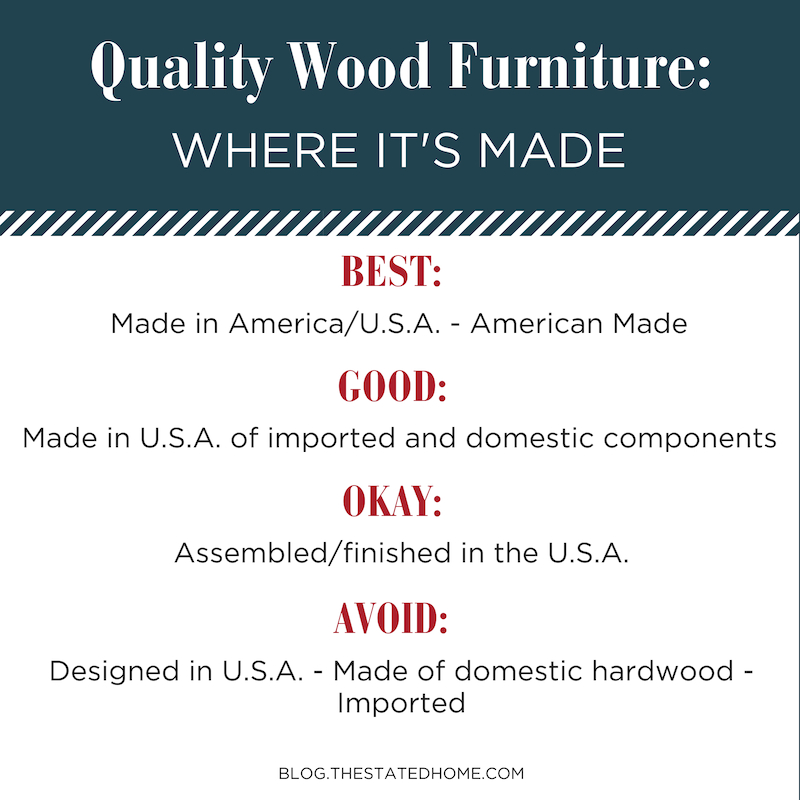 Wood Material
We go into detail about the differences of solid wood versus everything else here and we talk about veneers here, but wood material is something you should be able to easily figure out while shopping. And that's a good thing since it's the biggest clue into the quality of the piece.
Best: Solid Wood from FSC-certified trees grown in the U.S.
Good: Plywood with veneer of at least 1/42", but 1/16" is even better!
Okay, but not ideal: Solid wood from imported species: Mango, Acacia, Segnon Tekik (and all those other woods you've never heard of before)
Avoid: Veneer or plastic laminates over Medium Density Fiberboard (MDF) or particle board – not only will the veneers peel soon after purchase, but MDF and particle board are full of nasty chemicals (you can read more here)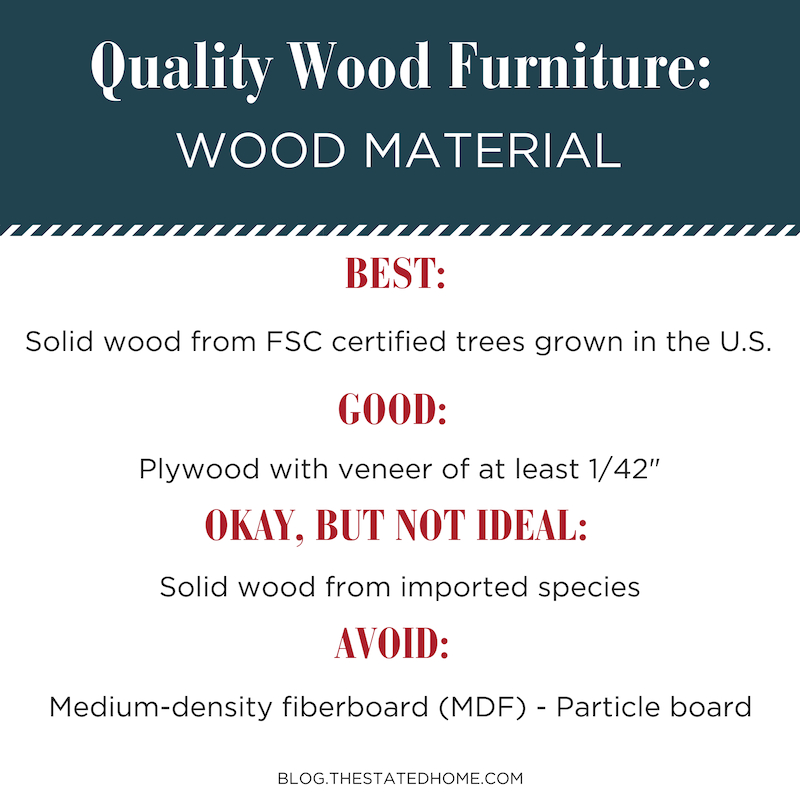 Tricky terms you may see when shopping:
Domestic/American Wood – This means the wood was grown in the U.S., but there's a good chance the furniture was not constructed here (and thus not constructed well). The U.S. ships A LOT of lumber overseas, where it is made into poor-quality furniture.
Hardwood or Solid Hardwood – Technically, hardwood is a category of wood (trees are either hardwood or softwood – you can read more about that here). But it doesn't tell you much when it's used to describe furniture. What type of hardwood? Is it 100% hardwood? What other materials are used?
Engineered Wood

– A broad term that could mean plywood (okay for some furniture applications) or MDF/particle board (not okay). You just don't know what you're getting.

Wood Species Without the Word "Solid"

– You can put the name of a wood species in a furniture description, but that doesn't mean it's solid. Something with oak veneer over MDF could say "made of oak."

Omission of Words

– Watch out for a vague description, like if it says there's veneer but doesn't offer any other information. You can't know if the veneer is on MDF (not okay) or plywood (more likely to be okay)?

Kiln-Dried

– It's necessary to dry lumber in kilns when constructing solid wood furniture, but sometimes a company will throw this phrase on the description to make the furniture sound fancier than it is.

Talking up MDF and Veneers – We've seen companies tout MDF and veneers as a "feature" because it will avoid cracking. It's true, MDF does not change in different environments like solid wood (more on how wood changes here), but well-made solid wood furniture won't crack. Cracking occurs on a lot of imported furniture because it comes from humid places and isn't dried correctly. The only reason furniture manufacturers choose MDF over solid wood because it's cheaper.
Box Construction
Almost all wood storage furniture (pretty much everything except tables and beds) is built out of a large wood box that then gets drawers, doors, or shelves added. The construction method for the box can give you some clues to quality.
Best: Mitre (when the top and sides are cut at a 45-degree angle to create a virtually seamless corner) This joint looks clean and modern, but take a look inside to make sure it's reinforced with corner blocks.
Best:

Panel (pieces of wood form a frame with a panel inserted in the middle) Commonly found on cabinet doors, this style can also be used to create the sides of a traditional looking casegood. In this case, the panel will most likely be engineered wood so that it won't expand or shrink and affect the construction. We prefer it to be plywood, but in some cases it may be MDF. In panel construction, the top will typically have a slight overhang, but it should still look neat and secure.

Okay:

When the top is placed onto the sides with straight cuts. This construction looks sloppier than the mitre or panel construction. It's also easier to do, so it may suggest cutting corners in construction.
Drawer Construction
Drawers are a gold mind for quality information – you can determine a lot pretty easily by looking at their construction and mechanisms.
Drawer Box Material: This is the main part of the drawer (so the part you'd be putting your socks in). Determine the material by looking at the top of the drawer sides.
Best: Solid wood – will look like a consistent piece of wood
Okay: Plywood – you will see several layers of wood glued together
Avoid: MDF or particle board – you won't see any wood grain or will see small bits of wood that look glued together
Drawer Box Construction: Look at how the sides and front are joined to each other.
Best: Dovetail (a common drawer construction method where trapezoid notches are cut out of one piece joined with notches of another) You will be able to see this easily while looking at the side of the drawer.
Best: French or Sliding Dovetail This is a little harder to figure out, but it's made by a long trapezoid shape that slides into the groove on the drawer front. If you look under the drawer, you should be able to see where this happens.
Okay: Staples (you'll see small staples attaching the drawer sides to the front) This isn't as structurally sound at the dovetail options.
Drawer Face: The front of the drawer that you see on the exterior of the furniture is called the drawer face and it can be attached in one of two ways: integrated or separate. While the best is an integrated drawer face, we have a lot of companies that do it the other way and still make a great piece of furniture at a little bit of a lower cost.
Best: Integrated Drawer Face – The face is actually the front piece of the drawer box and the sides are attached directly to it. When looking at the dovetail, you'll see the integration of the face because there will be a difference in material in the dovetails.
Good: Separate Drawer Face – The drawer box is built separately and then the face is attached with screws. When looking at the dovetails, the material will look the same from the sides to the front.
A Warning: Look at how the hardware is attached. We recently saw an RH dresser with a separate drawer face that had the pull knob installed BEFORE it was attached to the drawer box. The error in this method became painfully obvious when the knob fell off and there was no access to the screw because it was in between the drawer face and the drawer box. To repair it you had to take off the entire drawer face. Always make sure the hardware screw is visible on the inside of the drawer!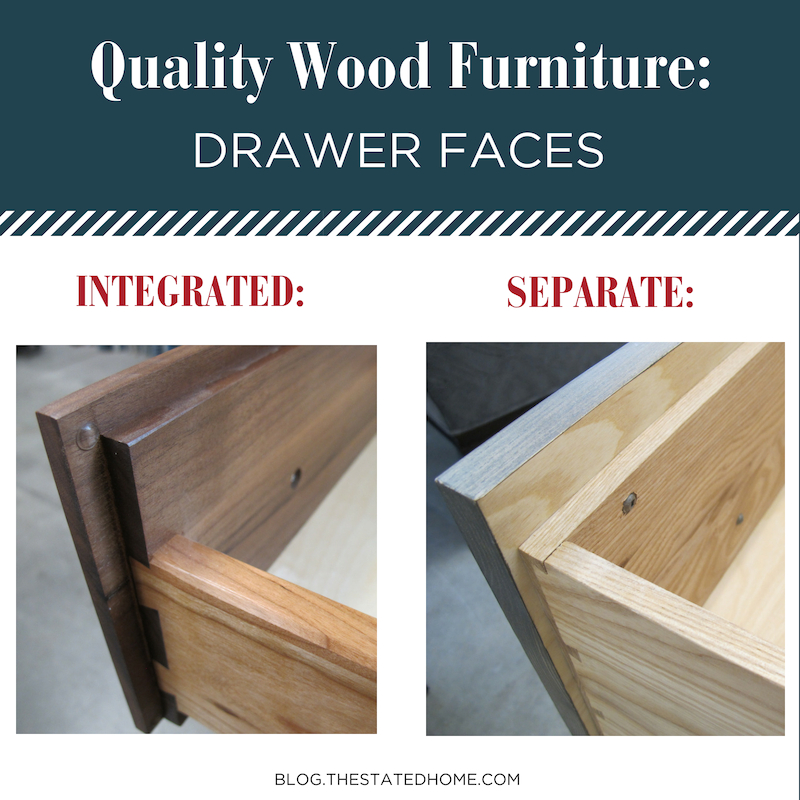 Drawer Glides: This is how the drawers move in and out. This is less of a quality concern since most manufactures will use all of these methods depending upon the style of furniture, but we wanted to mention it here as something you can identify while you're shopping.
Best: Undermount soft-close glides. These offer the smoothest operation; when you close the drawer it will slowly glide into place.
Good: Side mount metal glides. These are used on drawers where weight can be an issue, like file drawers.
Good: Wood Glides – undermount or sidemount. A notch in the drawer glides along wood pieces attached to the case. While not as smooth as metal glides, these are long lasting and will have less issues then the metal glides over time.
Back Panel
Look at the back of a casegood and you'll see the back panel, a piece of wood that covers up everything. This part of the furniture isn't usually seen, so won't look as pretty as the rest of the piece. It may be plywood (okay) or MDF or particle board (less okay).
Look at how the back panel is attached:
Best: Integrated – the panel fits into grooves along the top, bottom, and sides. This adds to the structural integrity of the piece and you won't see any screws or other hardware on the back.
Good: Screwed – the back panel is screwed along the border into the furniture. This will still provide some structural support to the piece.
Okay: Staples or Tacks (small nails) – You'll see small staples securing the panel. This won't do much to help the structure of the piece, but it gets the job done.
Shop Smart
A quick inspection of your casegoods will help you determine how it was made and give you clues to the longevity. While it's totally okay to buy furniture with some "Good" or "Okay" construction features, just make sure it's priced accordingly.