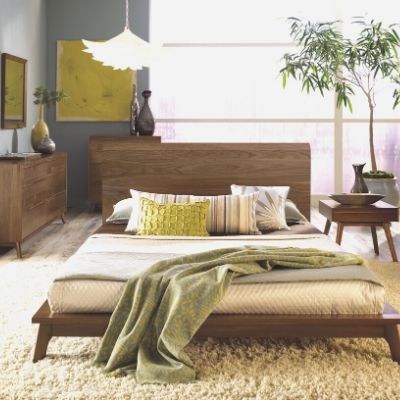 Copeland Furniture's factory is nestled in a small town called Bradford, Vermont, near the New Hampshire border in an area called the Upper Valley. It's as lovely as it sounds: covered bridges, lakes, nature, and a lot of homemade ice cream and craft beer. And it's where Copeland makes all of their solid wood bedroom, dining, office, and living room furniture. We were lucky enough to visit the factory this past August, and we couldn't have been more impressed. So obviously we had to share what we saw with you guys.
A large furniture factory (Copeland has around 100 employees) works a little differently then your middle school wood shop. No single person takes the raw lumber and turns it into a piece of furniture. Instead, in the factory, each person is responsible for a single part of the production.
So how exactly does a furniture factory churn out approximately 500 beautiful, well-crafted pieces a week? In a very organized manner:
Raw Lumber – All wood is from sustainably managed forests (read here about how that works). The main species are Walnut, Cherry, Ash, and Maple and wood boards in random widths and lengths arrive to the factory each week.

Trimming – The boards aren't perfect when they get there, they contain knots and vary in color. Someone looks at each board and marks the major imperfections, then sends it through a scanner where a computer figures out how to get the most usable wood out of each board.
Planer – The boards are sent through a machine that makes them all the exact same thickness.

Color Match – Individual wood boards are matched by hand to minimize the color variation in a final piece of furniture.
Glue – To make the large panels that turn into the furniture, the individual boards are run over a wheel covered with glue, laid flat, and pressed together. A radio frequency machine allows for the glue to be 80% cured in one minute.
Sander – The large panels go through a sander to smooth both sides.
Machining – Large computerized machines called CNCs cut the panels to create the individual pieces required for the furniture. They're so precise that every piece is cut and drilled exactly the same way. If this was left to a person, a measuring tape, and standard tools, there would be way too much variation from piece to piece.

Parts – The parts are kept in organized aisles and bins so that pieces can be quickly picked for assembly.
Assembly – This is the part of the process that is most like a wood shop. Skilled craftsmen are assigned their own bench where they assemble the pieces into the furniture. Some workers have a specialty, like dining tables or headboards, while others do different things each day.

Drawers – These are an integral part to many pieces of furniture and it's important that it's done correctly. It doesn't matter how beautiful a dresser looks if the drawers don't open smoothly. A woman named Sarah solely focuses on this part, assembling around 15,000 drawers a year. Then another worker named Pete is responsible for mounting all the drawer glide, leveling them by hand, and putting on the knobs.
Staining – Most wood furniture gets sprayed by stain, then wiped by hand to ensure even color.

Finish – Two coats of catalyzed lacquer are sprayed on the furniture. After each coat, the piece travels slowly on a conveyor belt to get dried and sanded by hand.
Packing – Each piece is checked one last time for quality. If something's wrong, it's sent back until it's perfect. It's then cushioned in cardboard, wrapped in plastic, and put in a cardboard box cut to the piece's exact specifications.
While all of that is impressive on its own, there are other things going on at the factory that we also have to share with you:
Waste – After all the trimming and sanding is done, only about 50% of a piece of wood ends up as furniture. But none of the waste ends up in a landfill:
Smaller wood pieces are joined together to make more furniture (they are used in Copeland's less expensive line) or to be used for inner shelves.

Sawdust goes to a local farmer in the summer for use as bedding for his dairy cows and in the winter is burned to heat the factory.
Other scrap wood is given away for free to the community to use as firewood.
Eco-Friendliness – Besides the re-use of wood waste, Copeland is eco-friendly in many other ways:
They have installed a solar panel field that produces over half of their needed electricity.
Finishes are Greenguard certified – meaning they are rated low for chemical emissions.
Much of their wood supply is shipped from within 500 miles of their factory, reducing emissions.
Furniture is built to last generations, not to be thrown away after a few years.
Quality Control – As we walked around the factory, we noticed that almost every employee who touches a piece of furniture checked it for quality. So many of them would say, "I'm really particular" as they did their job.
Repair – Let's say a piece shows up at a retailer and something is wrong – it may have gotten damaged in shipping or something just isn't working right. If the issue can't be fixed at the retailer, a replacement piece is sent and the damaged one gets shipped back to the factory. Those pieces get repaired and go to the company store, where they're sold at a discounted price.
Employee Care – One employee we met, Carl, had only been at the factory for four months. He's retired, but wanted something to do. He said, "It's harder to get a job at Copeland then it is to get into an Ivy League college." That's a testament to the type of place Copeland is. About half of their employees have been there long-term, with many working there for 20 years or more. There are also a lot of families that work there: married couples who then bring their kids on board.
The Cost of Quality
After seeing the care and pride that goes into each piece of furniture, it's even more obvious why American-made solid wood furniture costs more than imported pieces.
Solid wood costs more than veneer applied to MDF (more on that here)
While machinery makes some aspects of the production go quickly, care is taken at each step to produce an excellent product
Only the best construction methods are used, like mitred edges, dovetail drawers and integrated back panels
Employees are paid a wage where they can support a family and are provided with benefits like health insurance
Our visit to Copeland Furniture re-affirmed our commitment to carrying American made furniture. We are thrilled to support a company that treats their employees and the environment with so much kindness and hope that you will feel the same.