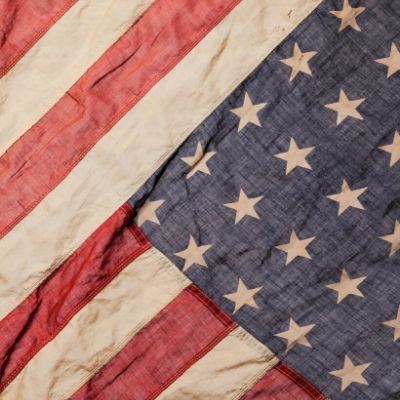 It may seem like every furniture store is full of imported pieces, but there are still many companies that manufacture in America. The problem is, it's tough to find American-made furniture among all those imported items. Frustration with this shopping experience is what led us to create The Stated Home in the first place! Every single piece we sell is made domestically, making it easier than ever to find American-made furniture. That said, we want you to prioritize purchasing American-made furniture, even if you don't shop with us. And the following pointers will help you do just that.
Be Aware of Deceptive Labeling
Furniture companies are well aware of the value of saying something is "American Made." That's why they spin the language on their labels to make you think you're getting something made in the USA, even if it was actually made overseas.
Here are some claims you may come across when searching for American-made pieces and what they really mean:
Made in USA/American Made/Made in America: These are the gold standards and they mean that all or virtually all of the components and the final piece are made in the U.S.
Made in USA of Imported (& Domestic) Components: This label is a good second option. There are certain items that just aren't made here anymore (like light wiring components and most wool used in rugs). Seeing this on a label means that the company had to import some parts to make the product, but the product was still made in the U.S.
Assembled in USA: This classification means that the factory is located here and that the item went through a "substantial" transformation (more than just someone putting a few screws into it). The materials are made overseas and then shipped to America and assembled here.
Finished in USA: The furniture is constructed overseas and then shipped here for a final coat of paint or finish. Just like above, some Americans are working to create the furniture, but only at the very end of production.
Made of North American/Domestic/American Hardwood: This one is tricky! Just because the wood is from America doesn't mean the furniture is made here. It's common practice to ship raw lumber overseas and then back again as furniture – a truly ridiculous practice that creates a large carbon footprint and lower quality furniture.
Designed in USA: This label is especially infuriating because – duh – if you're purchasing something from an American company, chances are it's getting designed here. This is a cheap shot to try to deceive people into thinking they're getting an American product when really it's made overseas.
American Company: This is another opportunity to throw the word "American" onto the label of an imported product. If you're choosing between two imported products because there just isn't a version made in America (computers for example), this is a way to know you're at least purchasing from an American company.
Stickers and Labels with an American Flag: Perhaps the most deceptive act of all, some companies will throw an American flag on their labels to make you think the item is made here. The flag doesn't mean anything, so make sure you also find a "Made in USA" label.
Ambiguous Terms Without Regulation: Don't be fooled by terms like American Craftsmanship or Built with American Pride. These aren't regulated at all and therefore mean nothing.
American-Made Upholstered Furniture: Sofas, Sectionals, Chairs, & Ottomans
American-made upholstered furniture is relatively easy to find, although quality varies greatly (read more about this on our blogs about sofa frames, suspension, and cushions). Keep in mind that some retailers have switched to producing these pieces overseas (looking at you Restoration Hardware or RH or whatever you are), resulting in a much longer waiting time for a custom piece compared to those made domestically.
Major retailers that still produce at least some upholstery in America are The Stated Home (100% of our pieces are made here), Pottery Barn, Crate & Barrel, Ethan Allen, Arhuas and Room & Board (see a comparison of sofas from these major retailers here).
There are also many well-known manufacturers that still produce their upholstery here: Thomasville, Basset, Drexel Heritage, and Lay-Z-Boy, to name a few. And don't forget about smaller American-made manufacturers (for more on that, see our post on top American-made upholstery brands)!
The benefits of American made upholstery are:
Made-to order nature allows for customization with a shorter wait time (often about eight weeks)
Likely to be better overall quality
Priority is placed on using fewer chemicals in lumber treatment and finishes
Eco-friendly practices are the norm: sustainably managed forests, bio-products used in cushions, and the use of recycled materials
American-Made Wood Furniture: Dining Tables, Bedroom Furniture, Desks, & Occasional Tables
Wood furniture, commonly called casegoods, is much more likely to be imported. Most of the large furniture retailers and manufacturers ship in their wood furniture from abroad: Pottery Barn, Crate & Barrel, RH (a.k.a. Restoration Hardware), Drexel Heritage, Thomasville, Stanley, and Basset (not to be confused with Vaughn Bassett, which still produces here). If you're in a large store looking at wood furniture, you are most likely in a sea of poorly made, imported pieces.
The Stated Home and Room & Board both prioritize American manufacturing and do not import their wood furniture. Your best bet for finding American-made wood furniture is to shop at either of those stores or a local boutique that works with smaller, American furniture manufacturers. (Read our blog here on the top domestic wood furniture manufacturers).
The cost cutting measures of imported furniture are most apparent in the quality of wood furniture. The common practice is to put a thin veneer on MDF (read: cheap wood product that contains loads of harmful chemicals). This results in furniture that starts to chip and peel almost instantly. Besides avoiding this issue, benefits of American made wood furniture include:
Better overall quality
Increased customization options: Changing dimensions and finishes are easy with a made-to-order piece
Lumber is from sustainably managed forests (read more about the effects of illegal logging here)
Low-VOC finishes are used, preventing the off-gassing of cancer-causing chemicals
Purchasing American-made furniture may take a little extra work, but it's worth it to know you won't be wasting money on something that is going to fall apart and is good for the environment and our economy.