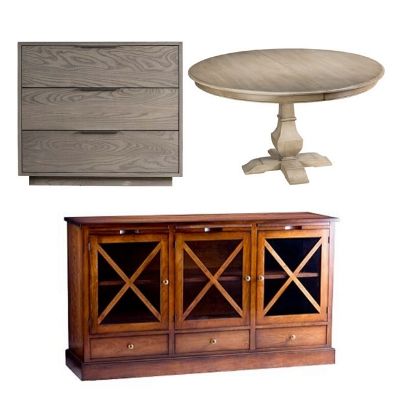 Looking for companies that manufacture wood furniture here in America? You're in luck! There are actually a lot of these companies around. That's the good news. The bad news is that finding them isn't always the easiest. You can always shop at The Stated Home, which only sells pieces made by American manufacturers, or use the retailer locator on the individual company websites.
When it comes to American wood furniture manufacturers, you have three main categories: companies that make a large selection of mid-priced furniture for every room, smaller companies that typically focus on a specific style or type of furniture, and fine furniture – higher priced pieces with exceptional design and/or labor-intensive manufacturing.
It's impossible to list every single one of the manufacturers out there, and for the purposes of this list we won't mention the really small companies that only make a few items. That said, if you know of a company that we missed, please let us know!
All of the below companies use real wood (no MDF or Particle Board), either in solid wood or high-grade plywood with thick veneers.
Large Selection Manufacturers: These manufacturers carry a wide variety of furniture for all (or almost all) rooms of the house
Smaller Specialty Manufacturers: These companies focus on either a single aesthetic or type of furniture
Fine Furniture: Usually feature furniture for every room, these items typically involve more labor and so are more expensive