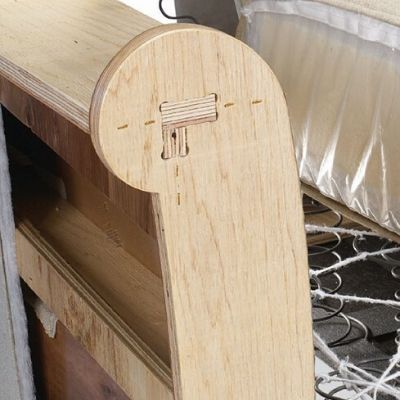 Many of our customers come to us after shopping around at plenty of other stores, which means they've looked at lots of sofas that all seem to be pretty similar, just with different names and prices. And that is really what's so frustrating about furniture shopping: What often differentiates the quality of one sofa or chair from another tends to be hidden beneath the fabric.
The materials and methods used in construction are what will ultimately determine how comfortable and long-lasting your furniture will be. This includes how the frame is made, the suspension, and the cushions. We covered this in a previous post, Sofa Quality: What Makes One Sofa Last Longer Than Another, but we wanted to dive a bit deeper into the differences in furniture construction. And we wanted to start with the frame. Keep reading to find out what separates the best sofas from all the other ones (and check out our selection of high quality upholstery here).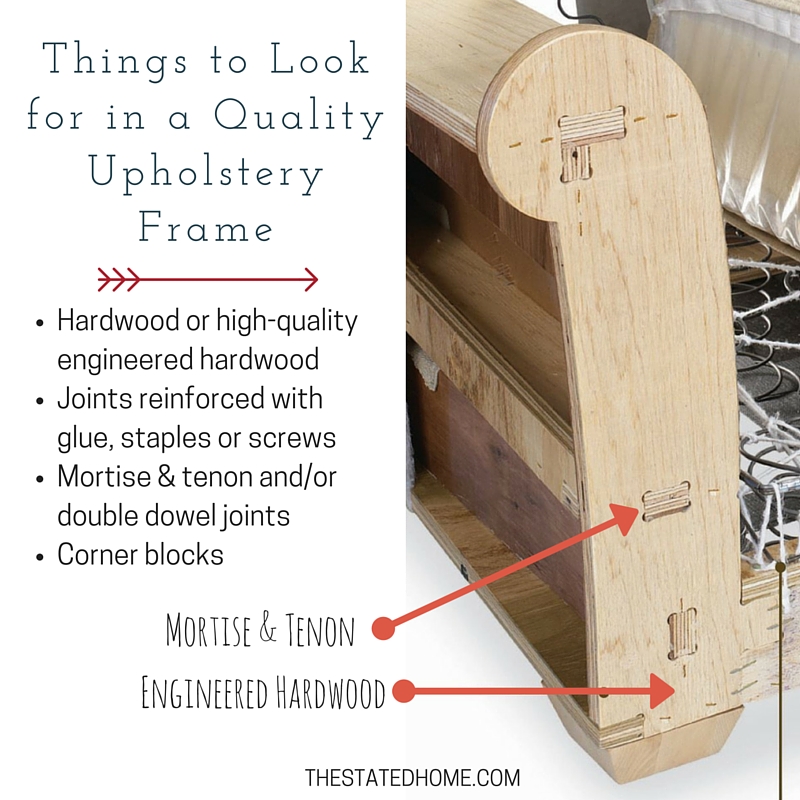 Frame Material
You want to make sure your frame isn't going to warp or crack, which is why you should really only consider buying sofas made with kiln-dried hardwood or engineered hardwood. That said, engineered hardwood is a broad category of materials, which means it's harder to determine quality. You want to avoid any engineered woods that are listed as medium-density fiberboard (MDF), particle board, or inexpensive standard plywood. The best engineered hardwood is made by pressing at least seven layers of solid wood together to create a material that is exceptionally strong. The upholstery sold on The Stated Home, which comes from Lee Industries, incorporates some engineered wood in their frames, but it's the incredibly high-quality kind. The frames have a lifetime warranty to back that up.
Frame Construction
Furniture is made by joining pieces of wood together, so it's the sturdiness of the joints that can ultimately lead to furniture getting wobbly. Solid types of joints to look for are:
Mortise & Tenon: The strongest method, this is used when two pieces of wood meet at a 90 degree angle. One piece of wood has a hole and the other is cut to fit precisely into that hole.
Double Dowel: A dowel is a small, wooden cylinder. It gets inserted into a small round hole drilled into two pieces of wood to hold them together. If you've ever put together a piece of furniture from IKEA, you've used this method. A double dowel is just what it sounds like: two dowels at each joint. While not as sturdy as a mortise and tendon, and more likely to loosen over time, this is still a perfectly acceptable method that is found on many upholstery frames.
Corner Block Reinforced: You'll hear this term a lot because it's a necessary part of sturdy furniture. When there is a corner, an extra piece of wood is placed at an angle and screwed into place (see what we're talking about here).
Reinforced Joinery: This describes adding an extra layer of support to keep things in place. The joint could be reinforced with glue, screws, or staples.
Other Joinery Methods: There are many other ways of joining furniture, some good (dovetail and box joints are used when building cabinetry and wood furniture) and some not-so-good. The ones we would avoid include a butt joint, where two pieces of wood are put together with only glue, screws, or a combination of the two, or metal connectors that are attached to two pieces of wood. You can read more about different joinery methods here.
At The Stated Home, we sell pieces that use reinforced mortise & tenon alone or in combination with reinforced double dowel joints and corner blocks. That's it.
Like what you read? Visit thestatedhome.com to shop our collection of made-in-America furnishings.