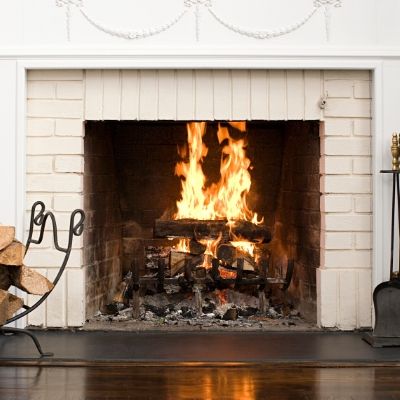 Sometimes we read something that makes us shake our head at the sheer stupidity of it all. And that's exactly how we reacted when researching the history of flame retardant chemicals in furniture. It's one of those things that sounds like a great idea (Furniture that won't catch fire? How safe!), but in reality is incredibly harmful to your health. Here's what we discovered (and a quick note that none of the furniture we sell at thestatedhome.com contains these chemicals):
History
In1975, the state of California enacted a flammability standard requiring that the filling of upholstered furniture not ignite if exposed to an open flame for 12 seconds. This requirement became the default standard across the country, and furniture manufacturers added flame-retardant chemicals to their products to comply. A single sofa would have up to two pounds of chemicals added to pass the test.
Adverse effects
While the chemicals did what they were supposed to, there was a huge downside: When exposed to a flame, the chemicals burned off toxic gases, making the fire more dangerous. Even more scary is that exposure to flame retardant chemicals has been linked to serious health issues, including cancer, decreased fertility, and birth defects. And the chemicals didn't stay put in the cushion filling: Flame retardant chemicals have been found in the environment, affecting our air, water, and wildlife.
New standard enacted
Finally, California saw the light and a new rule took effect on January 1, 2014. The revised standard eliminated the open flame test and replaced it with a smolder test applied to the outside of the upholstery, not the filling. This test reflects a more realistic scenario (say, if a cigarette fell onto the cushion). What made a lot of people happy was that most furniture can pass this test without the addition of any toxic chemicals.
The new law didn't go as far as prohibiting the use of fire retardant chemicals, and some manufacturers continue to sell treated furniture. That said, any furniture manufactured in 2015 or later must be labelled as containing flame retardant chemicals so that consumers know. However, if a manufacturer has a huge inventory of treated furniture made before 2015, they can sell it without a label.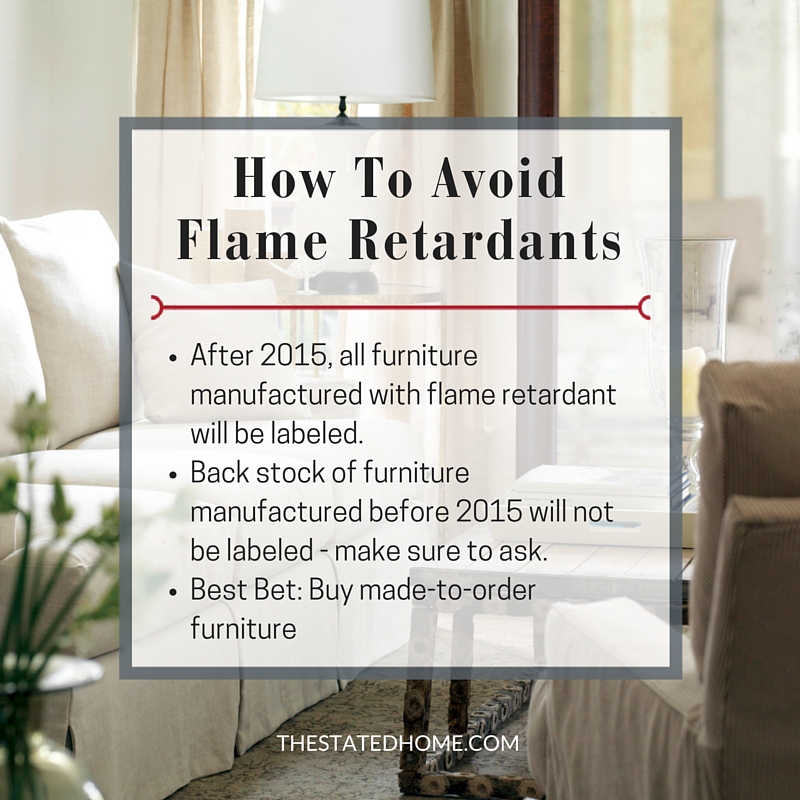 No flame retardant chemicals at The Stated Home
We at The Stated Home applaud California's changes. And we want you to know that you will never need to worry about the upholstered furniture you buy from us having those chemicals. Our upholstered furniture is made to order (so there's no old inventory) and is manufactured by Lee Industries, an early adopter of the new standards. Since early 2014, Lee Industries' cushions, foam, fabric, and decking products are free of flame retardant chemicals. All of Lee Industries' foam products have been rigorously tested by CertiPUR-US and contain their seal of approval. This assures you that their products meet specific criteria for physical performance, indoor emissions, environmental stewardship and pose no health risk. Visit here for more information about that.
Like what you read? Visit thestatedhome.com to shop our collection of made-in-America furnishings.