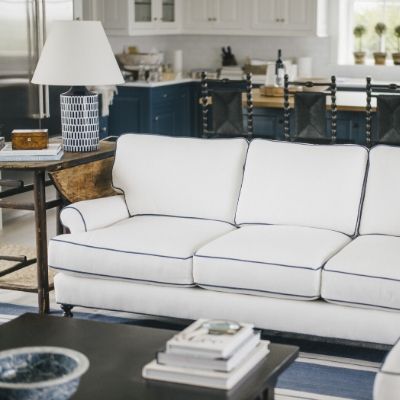 A great room, which is basically an all-in-one living space that combines the kitchen, dining room, and family room, is a popular feature in houses. While it can seem easy to decorate, it can actually be pretty challenging to figure out how to divide up the space and keep the look consistent among the different areas. Even though the room is called great, they can actually be any size (they are frequently used in smaller homes to get more usable square footage without walls eating up precious space). The following strategies will help you make your great room truly shine (make sure to check out our small space tips if yours is on the petite side):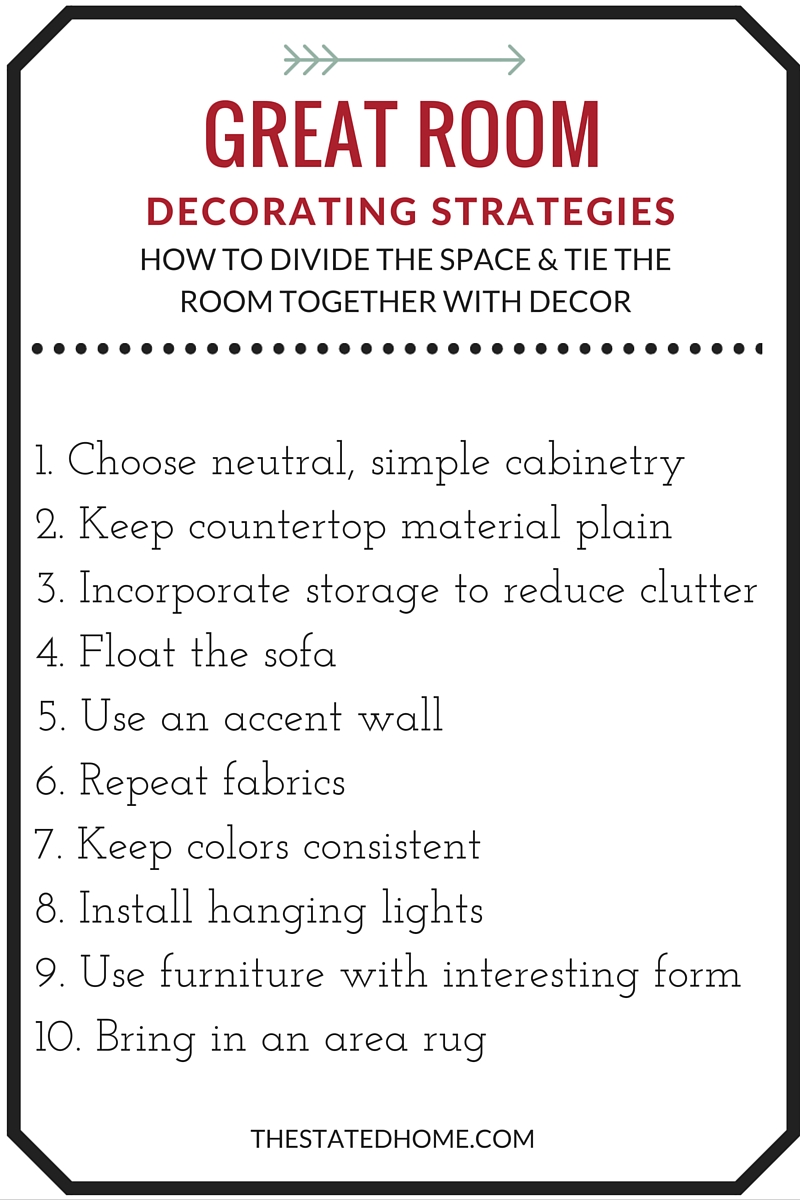 10 strategies for decorating a great room:
Use neutral, simple cabinetry: The kitchen in a great room should be clean and simple so it doesn't overwhelm the space. Choose simple shaker-style cabinet doors in a painted finish (white, black, or gray are great choices). That way you can bring in other wood furnishings and don't have to worry about it clashing with the cabinetry.
Opt for clean counters: Just like your cabinets should be simple, your counters should be too. We love quartz countertops because they have a lot of solid options as well as more subdued "marble-esque" options. If you want to go the natural route, choose absolute black granite, soapstone, or Carrera marble (though the last two are a little high maintenance, so know what you're getting into).
Incorporate a lot of storage in your kitchen: Kitchen counters in great rooms should be as free of clutter as possible because you see them from every other area. Find ways to get appliances off the counters (you might even want to find a spot to store your dish drainer when you're not using it).
Float the sofa: A great room should be divided up into smaller areas the way walls typically would. Putting the sofa in the middle of the room serves two purposes: It provides a clear division of the living area and frees up precious wall space. A sectional is a great way to provide separation in two directions.
Use an accent wall: We tend to think that an accent wall is an overused design feature, but distinguishing a single wall in either the dining or living room is an effective way to visually separate out a space. Painting is the easiest way to do this (please don't do red), but think outside the paint can. Use wallpaper (Tempaper has some great removable options), stenciling (they've come a long way), or decorative molding.
Repeat fabrics: Use the same fabrics throughout the space to tie it all together. That means you can pick one fabric and use it on your dining chairs and living rooms chairs or repeat the dining room drapery in throw pillows for the sofa.
Keep colors consistent: Besides your one accent wall, all the other walls should be painted the same color. And with furnishings and accessories, repeat colors throughout the rooms. For example: Bring in your kitchen cabinetry color to a piece in the living room or use the same wood in both your dining table and TV console.
Incorporate hanging lights: These fixtures can create settings over dining tables, kitchen islands, or even over the cocktail table. Do no more than two separate hanging light areas so it doesn't look too busy.
Pay attention to all sides of furniture: In a great room, much of the furniture will be in the middle of the room, which means it will be looked at from all sides. Choose upholstered pieces with interesting backs (such as our Malibu and Palm Springs styles) and make sure wood pieces are finished on all sides. Use side tables with interesting bases – pedestals or metal shapes work well.
Don't forget about area rugs: This is the oldest trick in the book for separating spaces, but it works! Buy the biggest area rug that will fit the separate area of your great room. If you want to use two area rugs (one in the living and one in the dining) then use the same rug in a neutral, organic pattern, a solid color, or a sisal.
Like what you read? Visit thestatedhome.com to shop our collection of made-in-America furnishings.