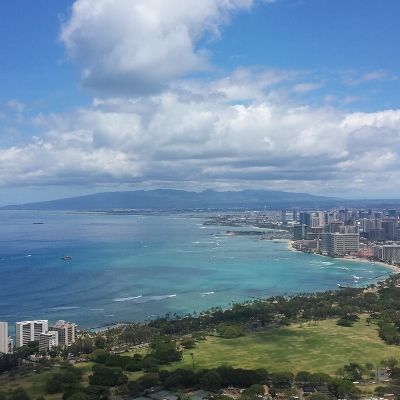 Honolulu is a wonderful mixture of a pure beach town (it's where Waikiki is) and Rodeo Drive with a completely international vibe to it. Unlike most of the other less-urban-feeling Hawaiian islands, Honolulu is not necessarily a place to go to get away from it all. But don't let that dissuade you from picking it as a vacation spot. The water is some of the bluest you've ever seen, the dining options are unique and delicious, and there are wonderful shops and goods you won't find anywhere else in the US.

Shop for American-Made Products
Hawaii is a popular destination for Japanese tourists who take their designer shopping very seriously. And Honolulu has met this demand with more stores than you'll know what to do with. Sprinkled among outposts of every designer you can think of are some great boutiques with souvenirs that don't involve hula skirts or shirts with the phrase "I got lei'd in Hawaii."
Eat Well
Honolulu provides the opportunity to eat some really unique food. There's local Hawaiian food (grilled meat and rice), Japanese restaurants galore, fresh seafood options, and every other type of cuisine a tourist would want to nosh on. The resort area of Honolulu has so many options it's overwhelming. Please don't take the easy way out by going with a familiar Cheesecake Factory or P.F. Changs. There is so much good food here worth seeking out!

Photos by The Stated Home: Sunrise over Waikiki, looking up at a tree in Kapioloani regional park, mid-century architecture of the Queen Kapiolani Hotel
Things To Do
If you've ever wanted to try your hand at surfing, Waikiki is the place to do it. The waves aren't too crazy and the water temperature is just about perfect. You can barely walk a block near the beach without coming across an offer for surfing lessons. And don't write off seeing Pearl Harbor or hiking Diamond Head just because they're touristy things to do. On your hike, please prepare better than the 50 percent of tourists who wear flip-flops and put on proper sneakers. It's not a long hike, but it is steep and uneven. Also, get away from the crowds of Waikiki by taking a day trip to the other side of the mountains. You can head to Kailua Bay to try some stand-up paddleboarding or just lay on a beach that's a bit quieter than Waikiki. For a truly Hawaiian experience, take a boat trip out to snorkel and swim with the sea turtles – there are several different tour companies that will take you on a trip.
Like what you read? Visit thestatedhome.com to shop our collection of made-in-America furnishings.