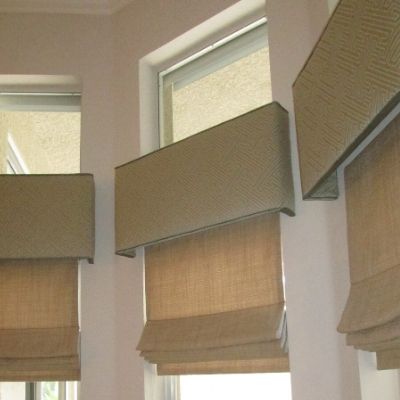 This blog was written by Jean Oglethorpe, mother to the two co-founders of The Stated Home and a truly inspiring decorator.
For quite a while, I have been thinking about doing something to add pizzazz to the windows in my breakfast nook. When we first moved in eight years ago, I had purchased roman shades to solve the privacy issue. The fabric I had chosen was about as neutral as one can get: a warm beige with a lot of texture. I had gone with a neutral because I wanted the flexibility to change accent colors without having to replace the shades, but the result was a boring, unfinished look. Clearly, something else was needed. Replacing the shades was out of the question—it would cost way too much—so I decided to add some embellishment at the top.
I was lucky to find a gorgeous piece of upholstery fabric in the remnant pile at my local fabric store. The geometric print included the same warm beige as my shades, as well as a soft green that went beautifully with the curtain panels in the family room and my existing chair seat cushions. It was kismet! I grabbed all of it as well as a yard of green silk that I could use to make the welting to trim my new window treatments.
Now the big question: What should I make with my finds? In the past, I've sewn curtain panels and valances in a variety of shapes and sizes, but I usually steer clear of projects that involve carpentry skills. I can hang a curtain rod, and I did mount those beige roman shades, but anything involving a saw is not my cup of tea. However, I had only two yards of the fabulous geometric, so my choices were limited. That's when I thought of upholstered cornices. I found a great YouTube video that walks through the process step-by-step, and it gave me the confidence to try.
Lowe's cut the wood needed to construct the cornice boxes without charge and they came together quickly with wood glue and an electric brad nailer. I splurged on a pneumatic stapler and a small air compressor to make the job go faster (I figured that I could use the compressor for spray painting and it was still way less than paying for someone else to make them for me). I never regretted that decision, as stapling the fabric with a manual or electric staple gun would have made the project overwhelming. With my new tool, I was able to upholster the cornice box in just a couple of hours.
My upholstery fabric was a joy to work with, accepting folds without too much bulk and allowing me to play with it with nary a wrinkle. I applied the silk welting with hot glue along the seam line, and the thin fabric allowed me to make crisp turns at the corners. I had accidently selected the perfect fabrics for the job—even my critical eye was pleased with the result. What do you guys think?
Like what you read? Visit thestatedhome.com to shop our collection of made-in-America furnishings.