One of our go-to ways to design a room is to choose the rug and then base the design off of that. It's easier to pull colors from the rug and pick upholstery fabrics in those hues than it is to find a rug to go with an existing upholstered piece. To show you what we mean, we've put together a choose-your-own-adventure design strategy based on our Tennille area rug (which is sadly disocntinued, but you can apply these same concepts to any traditional area rug you find).
This rug is a traditional pattern with a vintage, worn appearance. It is made in America by Karastan and is a mix of natural wool and Smartstrand (a stain-resistant fiber). It has warm undertones and a pattern in shades of cream, silver, beige, gray, and olive green. We like the worn look because it's good for hiding wear and tear.
Fabrics
Here are our upholstery fabrics that pick up on tones in this area rug (you can learn more about these fabrics on our fabric sample page):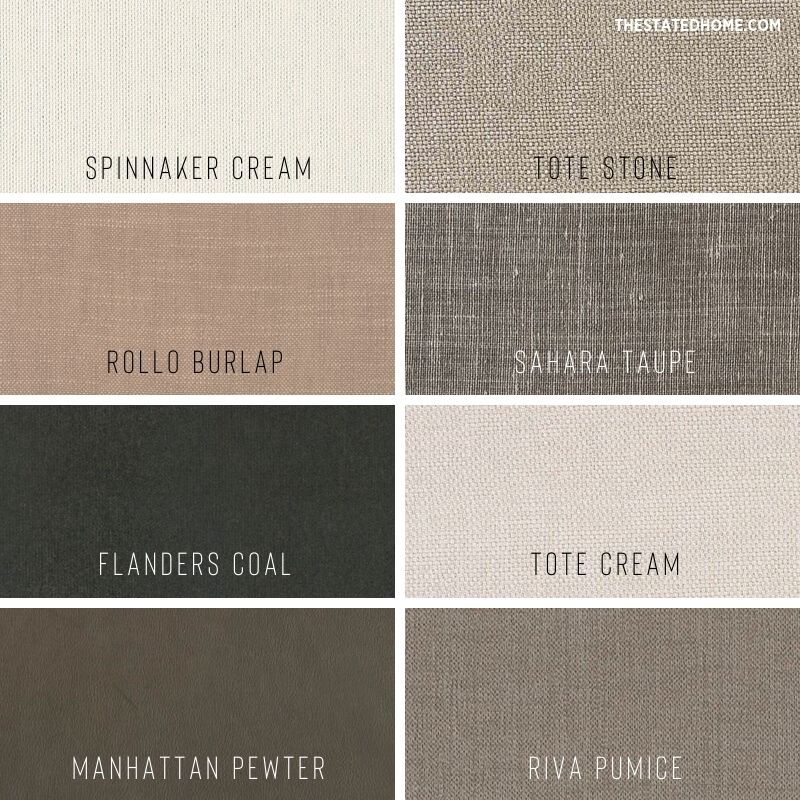 Moving down the columns:
Spinnaker Cream: A light colored Sunbrella fabric, this is a good option if you want a lighter color with some stain resistance or want to do a slipcover.
Rollo Burlap: A linen-look fabric from Inside Out, this is stain-, moisture-, and fade-resistant. It is a dark oatmeal color with hints of taupe or gray.
Flanders Coal: A velvet option, use this fabric to bring in a formal or luxurious touch.
Manhattan Pewter: A dark gray leather, we like this on an ottoman or chair.
Tote Stone: Our Tote fabric is a soft cotton with a visible weave. Tote stone is a light taupe color and the visible weave with slight color variation helps to hide dirt.
Sahara Taupe: 100% linen with stain-resistance, this dark taupe fabric with visible striations is a classic choice that can add to a dressier look.
Tote Cream: This is a light colored cream fabric with a visible weave and hints of gray. The texture and color variation will help hide dirt.
Riva Pumice: This is a tightly woven cotton/linen blend fabric with a brushed, soft feel. It is a medium taupe/gray color.
Choose Your Design
This rug can go with sofa styles that are more traditional as well as those that have modern touches like straight arms.
For a traditional or formal look, choose some of these elements:
Upholstery with rolled arms
Add nailhead trim
Furniture with casters (maybe on your ottoman?)
Throw pillows in geometric prints or abstract art (to counter all that fanciness)
Metal finishes in brass
Dark wood finishes
Something black (think about your end table or picture frame)
Ceramic lamps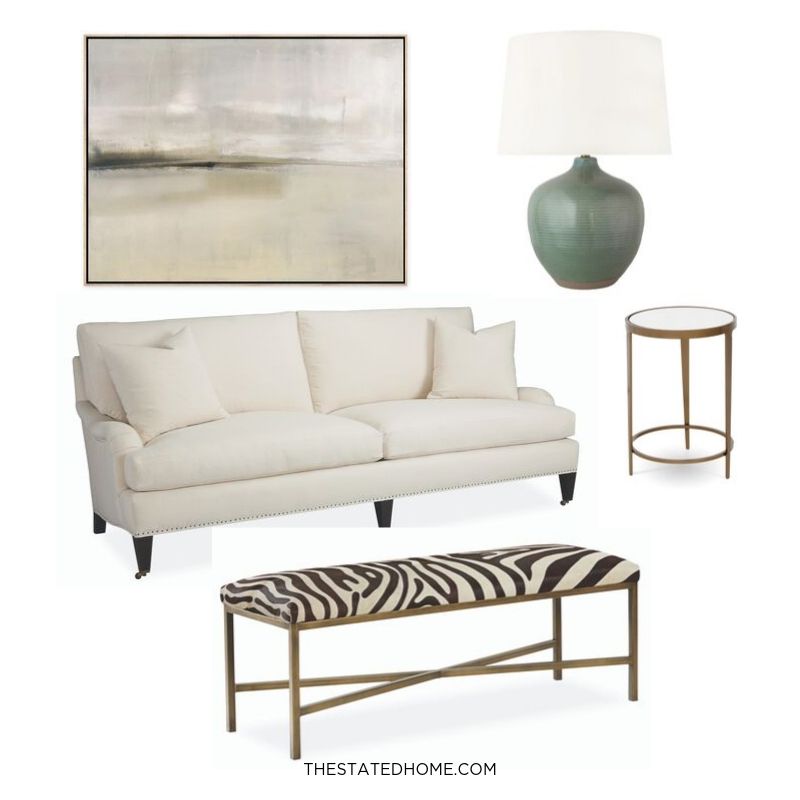 Image features our Savannah sofa and Eden side table.
For a more casual or contemporary design:
Upholstery with straight arms
Black metal finishes
Something in walnut
Accent chairs with a modern silhouette
Large photography art
Brass works here too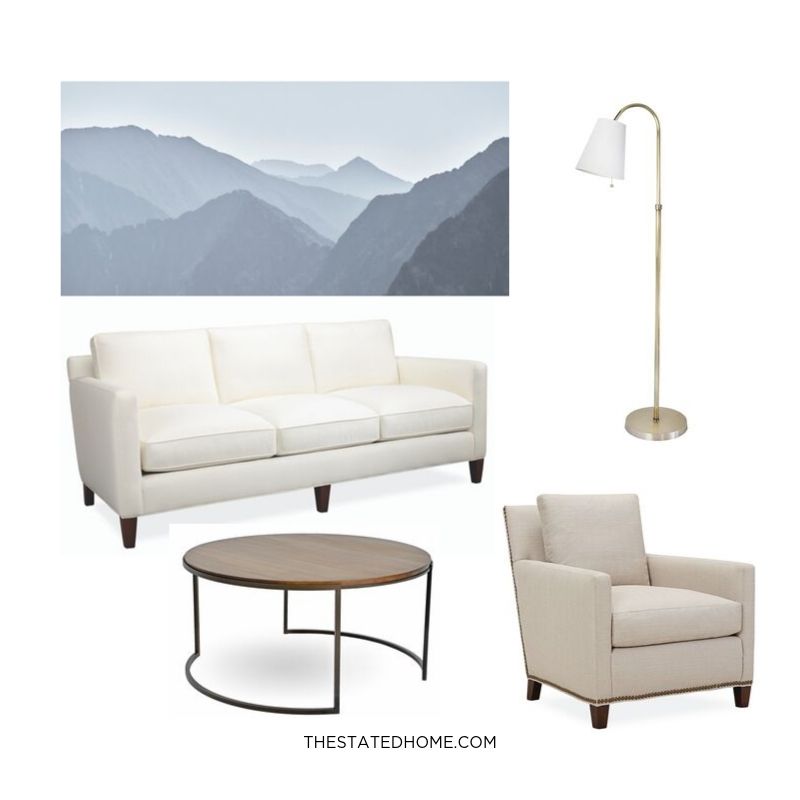 Image features our Chicago sofa, St. Paul chair, and Tabor cocktail table.