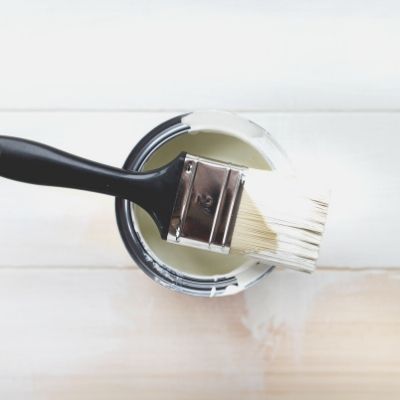 Our founder Laura recently bought a home in Louisville (the new home base for The Stated Home!) and found herself in the market for some new white-ish paint colors. After scouring the internet for advice (and getting overwhelmed by the hundreds of different options there are to choose from), she came up with a list of the white paint colors that kept coming up again and again. And instead of keeping that list to herself, we thought it would be fun to share it with you guys!
To make the list, the paint had to be either a Benjamin Moore or Sherwin-Williams color. These two brands are typically easy to find and cost way less than Farrow & Ball or Portola (where do you even GET those fancy paints anyway?).
Before we get to the recommendations, we wanted to share some good tips to think about when painting white walls:
If you decide to go white in one room, you should make most of your other rooms white as well. If one room is white and all the others have brighter walls, it will look like you forgot to paint a room.
Pay attention to existing finishes you can't change, like cabinets, countertops, and floors. If these lean warm, choose a warm white. If they are cool, pick something with cool undertones.
Make sure you add warmth to white rooms with furniture and accessories in natural wood tones.
For walls, pure whites can be tough to work with. Instead, choose something that has the tiniest bit of hue or is a super light version of a neutral color (gray, beige, or greige).
And the most important tip: TEST YOUR WHITES ON THE WALL FIRST. White is a super tricky color and can look very different from house to house and room to room. It can even look different in the same room as the light changes throughout the day. Buy small samples of a few colors you are considering and either paint big squares right on the wall or paint them on poster or foam board (you can then move those around the house to see how they look). It's a little extra cost and time, but way less than having to repaint when you realize your white is way too yellow or green.
Okay, on to our lists!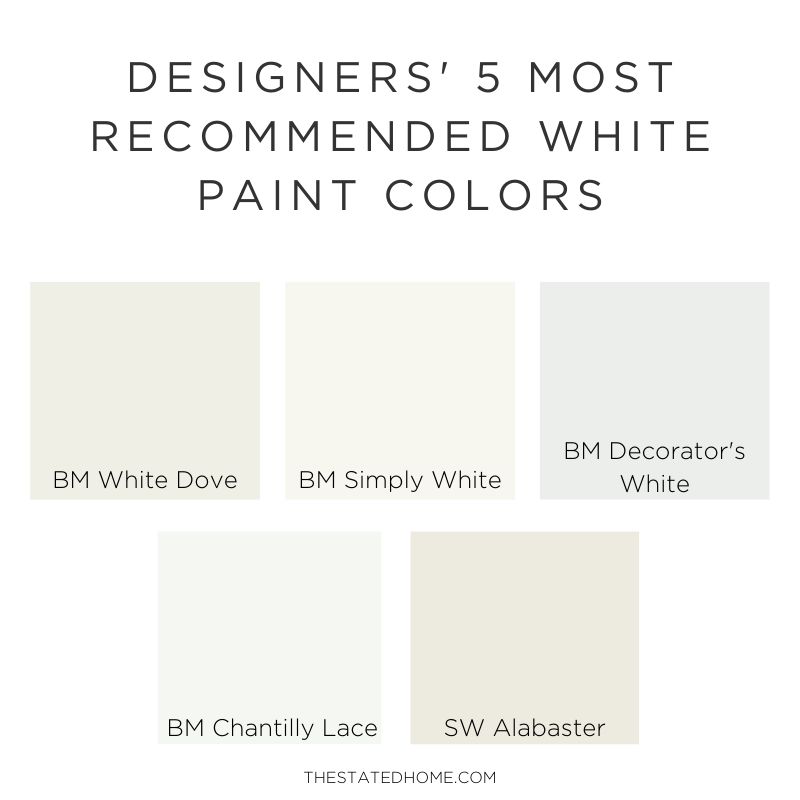 The Top 5
These five colors were by far the most recommended and kept coming up again and again.
Benjamin Moore White Dove (OC-17) – This color was the most recommended white for its ability to look both crisp (subtle gray undertones) and warm (creamy without being yellow or tan). It's a great option for bedrooms as well as large spaces like kitchens and living rooms (hence the versatility) and looks great with oak floors.
Designer Tip: Use on both walls and trim but change the sheen: eggshell on walls and semi-gloss on trim.
Benjamin Moore Simply White (OC-117) – A very close second, Simply White is loved by many designers for being a good "pure white." It reads "crisp without being sterile" because of a whisper of warm undertones and is a good option for trim and cabinets. It is also great if you want a crisp white in a more traditional space.
Designer Tip: Use on walls to brighten spaces with little natural light.
Benjamin Moore Decorator's White (OC-149) – A bright, clean white that leans cool – think of it as a soft, true white. An easy choice for trim and cabinets, it also works great as a wall color in contemporary spaces without being stark.
Designer Tip: Use as a trim color with gray walls.
Benjamin Moore Chantilly Lace (OC-65) – Another white appreciated because of its pure white color that won't make your home look like a sterile doctor's office, it has no pesky undertones and can go warm or cool depending on the other colors around. It looks good on cabinets or on walls in contemporary spaces and can be used to brighten dimmer rooms.
Designer Tip: A no-fail choice for trim and ceilings.
Sherwin-Williams Alabaster (7008) – A soft, barely off-white that leans towards cream to create a calm space. It's very similar to the #1 color above, Benjamin Moore White Dove, so if you're considering that, you may want to sample this too. Good to use in bedrooms (promotes relaxation) and on trim when you don't want a pure white.
Designer Tip: Use if you have existing warm tones in the space.
Those first five were pretty easy to separate out, but there were a bunch of other options that kept popping up. Here they are, in no particular order: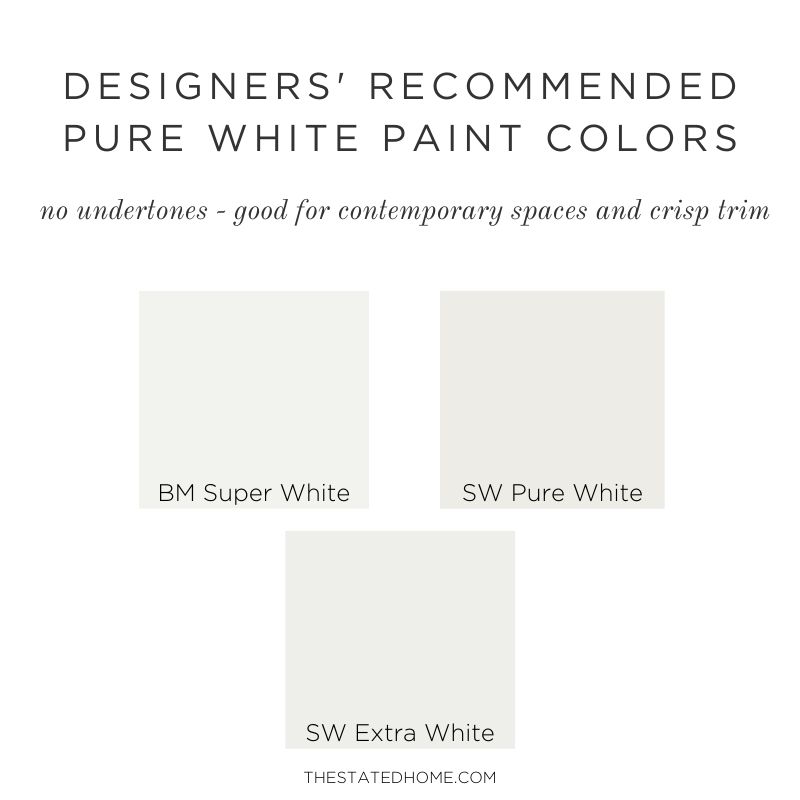 The Pure Whites
These colors are great if you don't want any undertones – you're highlighting art, have a contemporary space, or need a clean trim or cabinet color.
Benjamin Super White (OC-152) – With truly no undertones, it will make colors pop.
Sherwin-Williams Pure White (7005) – It has a hint of warmth, but can be used with warm or cool colors.
Sherwin-Williams Extra White (7006) – A very white paint with an ever so subtle cool undertone, it's crisp and works great with cool colors and contemporary spaces.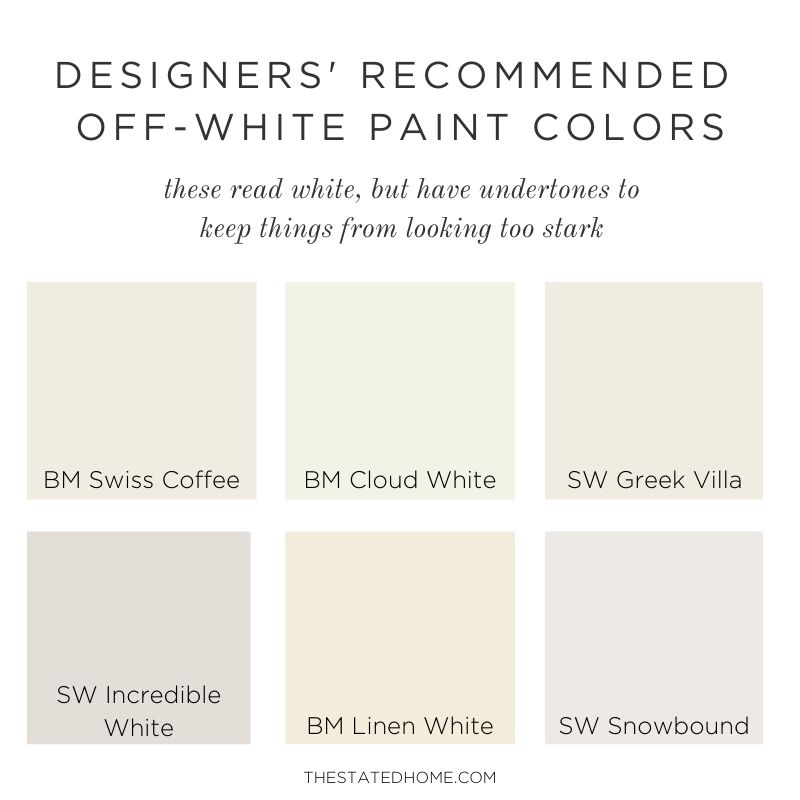 The Off-Whites
These colors read white, but definitely have undertones. If you have a traditional space, consider something with warm undertones. Cool undertones work well with existing cool gray colors.
Benjamin Moore Swiss Coffee (OC-45) – Ivory without looking yellow, this warm white also works in contemporary spaces.
Benjamin Moore Cloud White (OC-130) – A soft, warm white that gives you a good neutral without being stark, this one works in both traditional and contemporary spaces. Think of it as slightly whiter version of Benjamin Moore White Dove.
Sherwin-Williams Greek Villa (7551) – A warm, bright white with slight blue undertones that doesn't change much in different light. Almost creamy, this is good for both walls or trim.
Sherwin-Williams Incredible White (7028) – This has just enough of a warm gray hue to contrast slightly with pure white trim, but the walls will read white without undertones of other colors.
Benjamin Moore Linen White (912) – If you decide you want walls that look more ivory than white, this is a good choice. Without going too yellow, this color can make a space glow and looks especially good at night. Want to keep the creaminess down? Then mix this 50/50 with Decorator's White.
Sherwin-Williams Snowbound (7004) – The only cool white on this list, Snowbound looks like a true white, but has a hint of greige that keeps it from looking stark. A good choice for formal spaces or cabinets.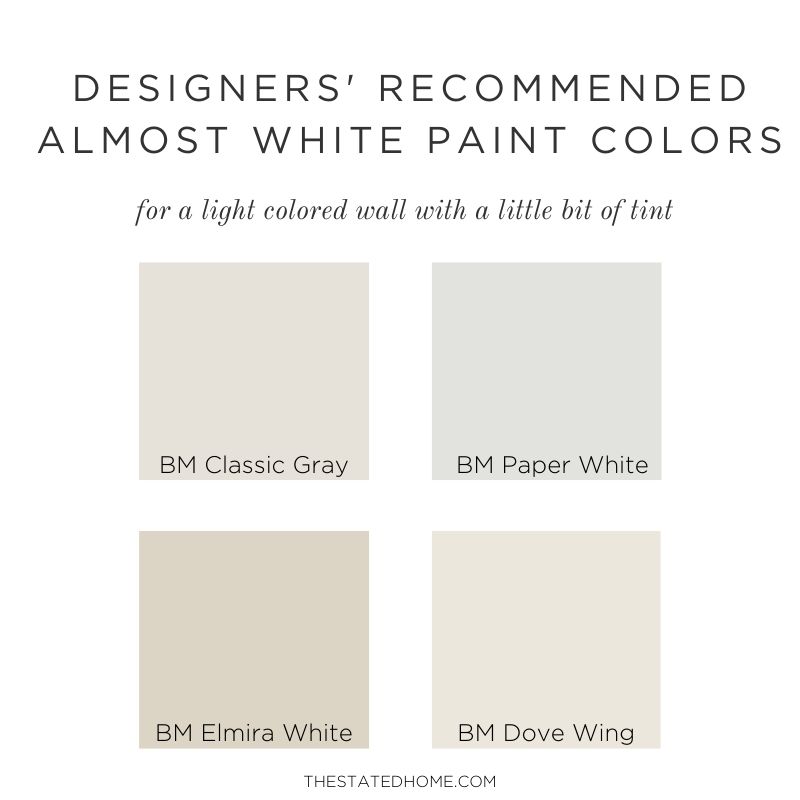 The Almost Whites
These colors give you light walls but contain just enough tint to look like an actual color. They are a good choice if you are worried about your space looking too stark or if you want to have more contrast between your walls and white trim.
Benjamin Moore Classic Gray (OC-23) – Laura had this on the walls of her old house and didn't get tired of it over the 10 years she lived there (which is saying something). This is a soft, warm gray that can read white.
Benjamin Moore Paper White (OC-55) – A very subtle gray that reflects different tones, Paper White works well in rooms that get a lot of sunlight and for those with gray and white finishes, like a Carrara marble counter.
Benjamin Moore Elmira White (HC-84) – A light beige with gray undertones, this warm color can lean gray or taupe depending on what else is around. The result: It will look good with most furnishings. It's a good choice if you like to change things up from time to time.
Benjamin Moore Dove Wing (OC-18) – A very light greige, this warm color creates a more natural look than doing white walls.