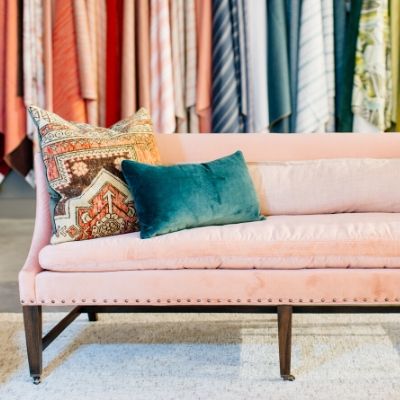 It's true that good things come to those who wait. How else can you explain the pleasures of homemade bread, springtime tulips, and the Veronica Mars movie? Well the pleasures of waiting apply to furniture too. And while the wait for made-to-order furniture is a bit longer than the wait for a loaf of bread, typically eight to 12 weeks, it's better for everyone involved. Keep reading to find out why (and head here to see all of our worth-the-wait furniture):
It keeps costs down. Not having a bunch of furniture sitting around waiting to be purchased means that The Stated Home doesn't have to pay for either a ton of inventory or a huge warehouse. Because of this, we don't have to add those prices to our costs, saving you money.
You spend more wisely. A sofa is an expensive purchase that's going to be around for a while (especially if you buy one from us). It's easy to get caught up in the "I want it immediately" mindset when shopping, but that's how you end up with a sofa that you want to replace after a few years because the fabric or style wasn't perfect. Made-to-order pieces can be exactly how you want them—the right fabric, size, and style—which means you'll love it for years to come.
It's better for the environment. Not only do we save on resources by not maintaining large warehouses full of items, but we ship directly from the manufacturer, which saves on fossil fuels. This is because we move a piece of furniture only once and as short a distance as possible—there's no moving items one direction to a warehouse and then backtracking to the final destination.
There's less waste. By making only what we need, we ensure we don't have excess inventory of items that we can't get rid of.
The day of delivery is worth it. The day a brand new piece of furniture arrives can feel like Christmas. After eight to 12 weeks of anticipating the arrival and visualizing your new space, your doorbell rings and your new sofa, chair, ottoman, or dining room chairs arrive. Your reward for being so patient: A perfect home for less money.
Like what you read? Visit thestatedhome.com to shop our collection of made-in-America furnishings.