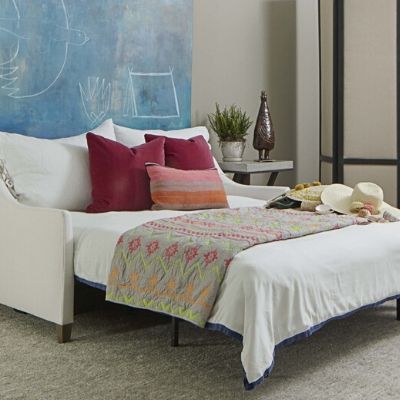 Anyone who has spent the night on a standard sleeper sofa can empathize with the character in The Princess and the Pea who tossed and turned thanks to the lump in her bed. We've lost hours of sleep too, trying to ignore the bars poking through a too-thin mattress. There is a solution – sleeper sofas can actually be comfortable for both sitting and sleeping – but you need to know how to find the one that meets your needs.
Before you start shopping for a sleeper, get to know the different kinds out there (this blog will help). Then, think about how the sofa will be used so you can choose a piece that will be best for that purpose. Ask yourself:
Where will the sleeper sofa be? If it's in an office or guest room, it probably won't be used every day for sitting. However, the primary sofa in a family room may get heavy use.
If it's not going to be used daily for sitting, you can choose a standard fold-out sleeper sofa, though you will be sacrificing some sleeping comfort. When you think of a sleeper sofa, the standard fold-out version with a thin mattress that folds up like a letter is most likely what comes to mind. The fold-out mechanism includes those annoying bars. The seating surface is on top of the folded mattress, so it does not have the typical suspension you would find in a regular sofa. As a result, the seating surface is rather hard and, if it's not a well-made piece, it may eventually sag if frequently used for sitting.
If it's the primary sofa and you want more comfortable seating, choose a good quality fold-out sleeper sofa with optional innerspring seat cushions. For a firmer seat, go with either the Pull Out, Pop Up Sleeper or the Solid Platform, Foam Mattress Sleeper (discussed below).
How often and how long will it be used for sleeping? Will guests be staying for more than a few nights? Do you personally move to the sleeper when guests come so they can have your bed?
For extended use, you want to ensure that the sleeping surface is comfortable. Choose the Air-Topped Fold-Out Mattress Sleeper, the Pull Out, Pop Up Sleeper, or the Solid Platform, Foam Mattress Sleeper.
For infrequent use, a standard fold-out sleeper sofa may be fine.
What is the size of the room? How much space do you have to fold out the sleeper mattress? How much space do you have for the width of the piece?
Fold-out sleepers take up the most space when made into a bed. If space isn't an issue, then choose any of the sleeper styles.
If space is tight, choose the Pull Out, Pop Up Sleeper or the Solid Platform, Foam Mattress Sleeper. Make sure to get the dimensions of the piece and measure it out in the room just to make sure.
If width is an issue, choose a sleeper that comes in a twin (chair) or full (small sofa) size.
Three Good Solutions for BOTH Sofa and Sleeping Comfort
There is no perfect sleeper sofa that is ideal for both comfortable sitting and sleeping, but these options come close:
Air Topped Fold-Out Mattress (Air Dream Mattress) – Even though the sleeper mechanism is the same as that on the standard fold-out model, this innerspring mattress has an inflatable air cushion layer on top. The result is a plush 11-inch mattress that inflates with an electric control, allowing you to adjust the degree of firmness. The Air Dream Mattress reduces your chances of feeling any bars while sleeping. However, there is some sacrifice in support when sitting on the sofa, since there are no springs under the cushions. Customize the sofa seat cushions for your comfort (e.g., Cloud 9 innerspring cushion wrapped in down). Lee Industries offers this cushion option on any of their fold-out sleeper styles.
Pull Out, Pop Up Sleeper – This style operates like a trundle bed: A bottom mattress pulls out and can either stay on the floor for two twin beds or pop up to create a larger bed. The top innerspring mattress doubles as the seat cushion, but as it doesn't get folded up, it lacks the uncomfortable bars found on fold-out sleepers. There is no option for softer seat cushions, so you need to be okay with the feeling of sitting on an innerspring mattress. You can find this style with our Lee Industries Aspen sleeper.
Solid Platform, Foam Mattress Sleeper – This option provides both a sofa with standard cushions and a comfortable bed without bars. The foam mattress is the same length as standard bed (80 inches), while other sleeper mattresses are typically shorter (70 to 75 inches). The seat cushions rest upon a solid surface, so it does lack some of the springiness you would find in a regular sofa, resulting in a firmer seat. This type of sleeper is available only from Lee Industries (Lee Sleeper Collection) and American Leather (Comfort Sleeper). The Stated Home features this unique sleeper system on the St. Paul and Branson sleeper sofas.
Tips for Sleeper Sofa Shopping
To get the best sofa sleeper possible here are some things to look for:
Overall Sofa Quality: Buy from a manufacturer that uses best practices in their furniture construction. Solid frames, well-made cushions, and top-of-the-line suspensions on sofas and chairs are an indication that their sleepers will be of equally good quality.
Sleeper Mechanism: Sofa manufacturers don't make their own sleeper mechanisms. As a result, different manufacturers often have the same mattress and mechanisms. Make sure the mechanism is from a reputable manufacturer like Leggett and Platt or Hickory Springs.
Sofa Cushion Fill: Make up for the lack of springs under the cushions of fold-out models by choosing seat cushion fill of innersprings wrapped in fiber or down.
All of the sleeper sofas we sell at The Stated Home meet these tests, so take a look and let us know how we can help you find the perfect sofa bed.