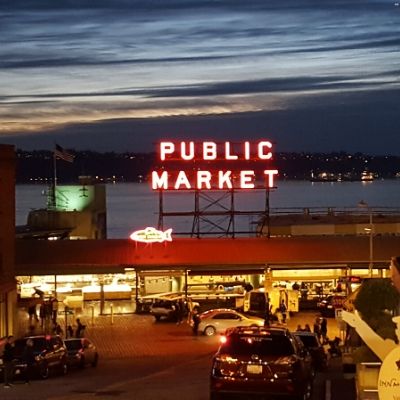 We expected to really enjoy our recent visit to Seattle, thanks to its fresh seafood and coffee on every corner, but we didn't realize all the places there would be to find American-made items. Seattle isn't just the birthplace of national brands like Filson and Herbivore Botanicals, but it's also full of expertly curated boutiques featuring a lot of other, less-known brands. We've got your must-shop places here along with a few other recommendations to make sure you eat well along the way.

Shown: pendant light from Glasshouse Studio, dress from Do The Extraordinary, The Handmade Studio, Velouria
Shop for American-Made Products
From clothing and décor to an amazing selection of handmade glass, this town has it all. Make sure you leave some extra space in your suitcase!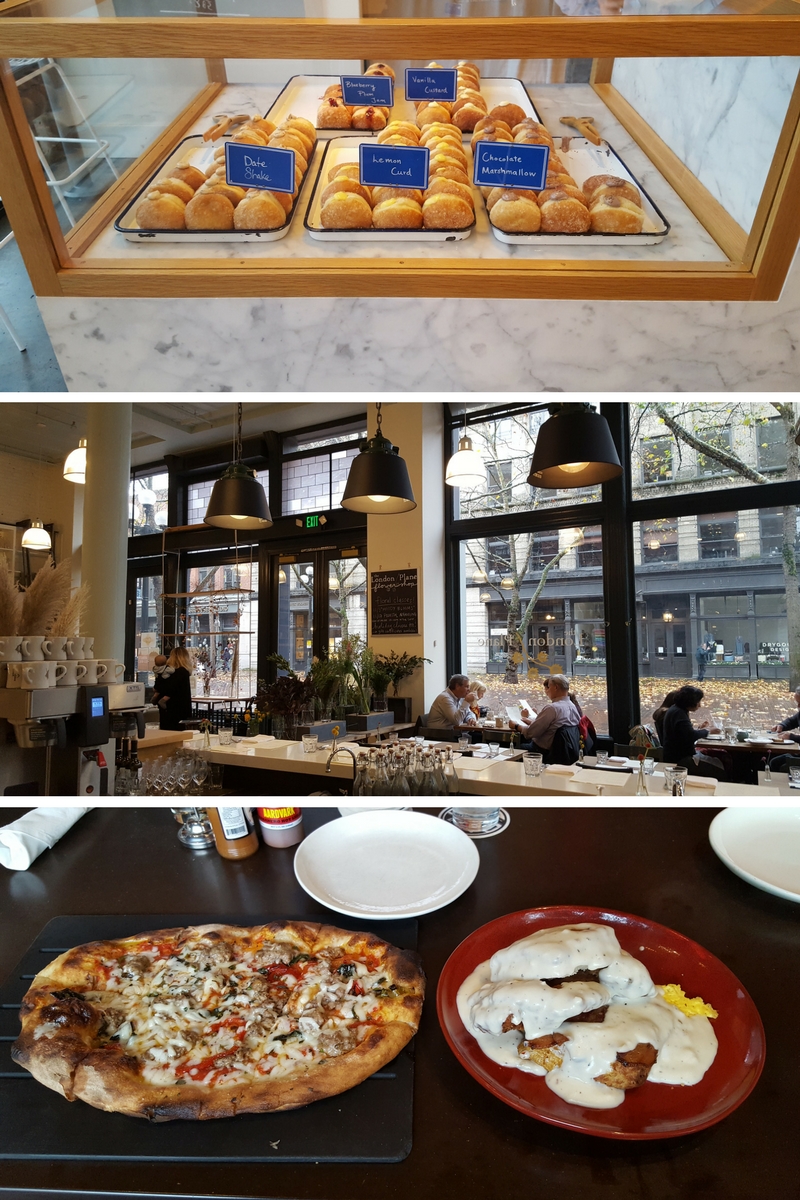 Shown, from top: gourmet filled donuts from General Porpoise, great view at The London Plane, pie and biscuits from Serious Pie and Biscuit
Eat Well
With no shortage of amazing restaurants, it's guaranteed that you'll eat some delicious meals during your visit to Seattle. The below list is by no means final, which is why we're looking forward to going back and trying out some more.
Vons 1000 Spirits | 1225 1st Avenue
A casual bar and restaurant, this place will have something for everyone. You have to order one of their homemade sourdough pastas and breads. We weren't disappointed by their pork confit cheese fries, mac and cheese, and meatballs either.
Lecosho | 89 University Street, The Harbor Steps
Locally sourced ingredients are the highlight of the menu at this cozy spot. The local mussels are the largest you'll ever see and the house-made sausage with lentils create the perfect bite. They have a nice wine selection too, so you'll find something to sip on with your meat and seafood main courses.
Il Corvo | 217 James Street
Don't go to this place hungry, because there will most definitely be a long wait. That shouldn't discourage you from going though, because you will have some of the simplest, tastiest pasta of your life. Only open for lunch, Il Corvo features three different pastas (do yourself a favor and order all three) and homemade focaccia that you'll remember long after your trip.
The London Plane | 300 Occidental Avenue S.
Talk about the most perfect place for brunch (and dinner too). The London Plane is a bright, airy restaurant and flower store that creates a great atmosphere for a relaxing meal. We went for brunch and, while they offered a lot of unique dishes, we were drawn to the simpler offerings, like toast with hazelnut butter, sea salt & honey and yogurt with granola. We were sad to not have enough room for one of their pastries.
Serious Pie (and Biscuit) | Various Locations, Pie & Biscuit at 410 Westlake Avenue North
There are a few Serious Pie locations around town and one has the genius addition of biscuits (and sausage gravy!). The pizzas are cooked quick and hot, resulting in a thin, bubbly crust. The biscuits didn't disappoint either and had options that were sweet and savory.
The Wandering Goose | 403 15th Ave East
Southern food in the Pacific Northwest? The Wandering Goose is an order-at-the-counter restaurant with fast service and delicious biscuits. We went for brunch and found it high quality and quick—a win-win!
General Porpoise Donuts | 1020 E. Union Street
Not normally a fan of filled donuts, we made an exception to try this place because of its cute logo and even cuter store. They offer sugared donuts with gourmet, not-to-sweet fillings: vanilla custard, chocolate marshmallow, lemon curd, and two rotating seasonal flavors.
Like what you read? Visit thestatedhome.com to shop our collection of made-in-America furnishings.