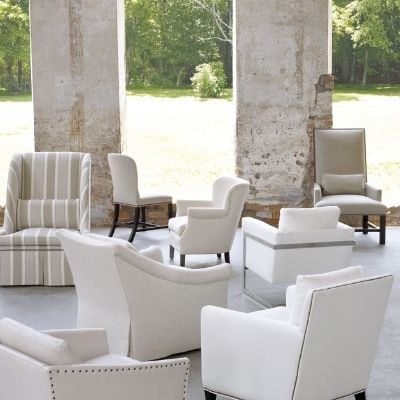 It seems that being stuck in your house has inspired quite a few of you to redecorate . We are especially appreciative that you choose to purchase from us, where your dollars go directly back into the United States economy. But not only has Covid ruined brunching, vacations, and holidays, but furniture manufacturing is also a mess. Pre-pandemic we were able to ship our furniture in 6-8 weeks, but it is now taking 16 to 20 weeks (or longer) – an eternally long time once you decide you can't look at your old sofa for another minute. A lot of things have to go wrong to extend production time this dramatically and apparently a pandemic is a perfect storm.

To give you an idea, here are some things that are happening in the industry:
Factory Closures. Back at the start of the pandemic, when all non-essential businesses had to shut down, our manufacturers stopped production for two months. During this time people were still shopping, so once they opened back up there was a significant backlog of orders.
Demand. A lot of people are realizing they want to change things in their home – our manufacturers report that orders have increased at least 50%, predating the pandemic. On a good day this would increase production times, but when added on top of an existing backlog, your new order gets sent to the back of a very long line.
Safety Precautions. With social distancing in effect, manufacturers have to be conscious of how physically close employees are to each other. This results in a pared-down workforce. Less People = Less Production Capacity
People Get Sick. So let's say you're a furniture manufacturer trying to figure out how to estimate production times. You take into account the two-month backlog, you see how many orders are coming in and you know you have 200 employees that can work at a time instead of 300. Then one day 50 people can't come to work because they are either sick or need to quarantine – you can see how this might slow down productivity a bit.
Materials Shortage. All of the events I've mentioned above aren't just happening at the place your furniture is getting made, but up and down the supply chain: lumber yards, foam producers (there's actually a nation-wide foam shortage), fabric suppliers and on and on. So it may happen that something needed for the construction of your furniture has run out and is waiting to be re-stocked.
Estimating Completion Dates. When we submit an order to our manufacturers we get an estimated date of when the furniture will ship. Previously this has been pretty accurate, but now manufacturers are figuring out how to estimate this with all of the issues mentioned above: reduced workforce, employees being sick, and material shortages. So now after you've become okay with waiting 16 weeks for your furniture there is a chance that date is not going to be accurate and pushed even further.
Shipping. Finally. The furniture is made, packed up, and ready to go – it just needs to get from the manufacturer to your house. Furniture shipping, an inexact science in the best circumstances, is also dealing with increased demand and decreased workforce – one warehouse worker gets sick and several more have to quarantine. This means that a few extra days are added onto a typical shipping time.
It's frustrating. And annoying. We get it – we want you to get your new furniture and begin to enjoy it. We want you to have a pleasant shopping experience with us. And most importantly we want you to have a bright spot during this otherwise gloomy year.
While the issues mentioned above are beyond our control, we will focus on what we can control – managing expectations. This means conveying from the very beginning what the situation is with production times (hence this blog post), updating you on completion dates and when those change (likely to happen), and expressing our eternal gratitude for your understanding.

We ask that you be patient with us and our manufacturing partners. This new normal has been an adjustment and things are changing every day. Hopefully we can soon go back to Sunday brunch, Taylor Swift concerts, and shipping furniture in 6-8 weeks.